Huanying and Yokoso
Which means "Welcome" in both Chinese and Japanese
I wanted to start a new blog post to showcase more of my love of all things Asian.
I probably won't be posting many recipes here, if any, but what I do want to post is anything and everything that I deem beautiful about the Asian cultures.  I do have a few Asian blog posts on this website that I will link to this one.
In addition to my believing that everything Asian is beautiful, I am also a huge fan of all the foods.
Eating at Chinese and Japanese restaurants, or even getting Take Out from the local Asian Fast Food scenes is something that we love to do and that we do often.
It is normal to us to run by 3 different Asian Take Out restaurants on our way home for dinner. 
We don't just go to one!  Too many good ones out there to pass by. 
Sometimes it's fun eating out of the cute little Asian Take Out containers, and other times I like to get out our Asianware and set the table.  Here is one of those times.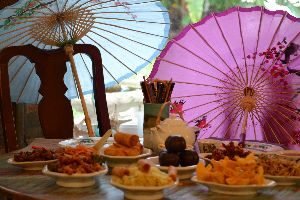 The pretty fans I found at my favorite thrift store.
My pretty Asian set here I purchased from a restaurant that was going out of business in San Francisco.
Plums at the Center of Attention

——————————————-
————————————————
Always Kimchi
Kimchi is a Korean Cabbage loaded with healthy bacteria.
This was a beautiful and Delicious Dinner.
I hope you'll join me and stop by in to see what new things I've posted.
Zaijian and Sayonara
Julie
——————————————
Blog Posts Will Begin Here……..