You Say Tomato…….
I Say Delicious!
Who Doesn't Love Tomatoes?
Did you know that tomatoes originated from Peru?
Everyone always associated them with Italy.  But if it weren't for immigration, Italy would not know of tomatoes and would have never created such delicious food.  Think about it!  Immigration gave us different foods and spices.
Pictured Here is Our Ebolta Salad
—————————————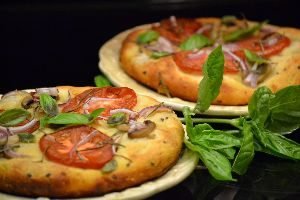 Our Delicious Homemade Pizzas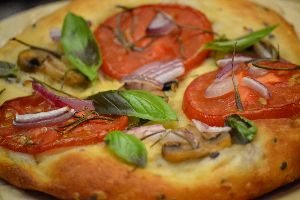 ——————————–
Our Ebolta Salad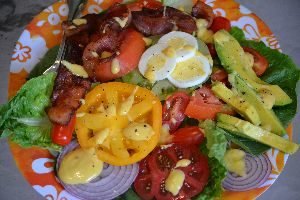 Egg, Bacon, Onion, Lettuce, Tomato, Avacado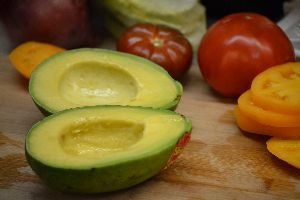 Actually we used a Slimcado, instead of a Avacado.
Gordon is laughing because I'm making him laugh!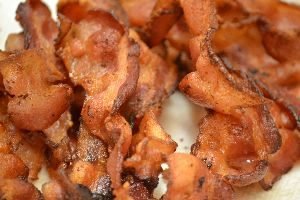 Here Gordon is slicing our heirloom tomatoes and he fried up our bacon.
Heirloom tomatoes are so much tastier than regular tomatoes.  It's such a difference!  They are more expensive but the taste is so worth the extra expense. 
Gordon Chopping our Grape Tomatoes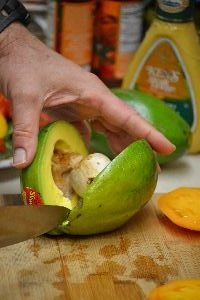 This is a Slimcado.  Look at the Pit!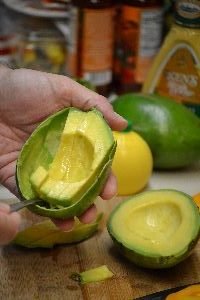 I will say that the Slimcado is not as tasty as an Avocado, but it is lighter in calories.
Gordon is slicing it lengthwise here for our salads.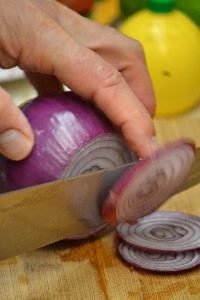 Slicing Some Red Onion and Slicing A Boiled Egg
Now it's just a matter of putting your EBOLTA salad together.  Then add some salad dressing of your choice.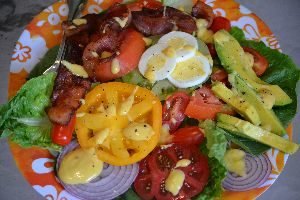 Perfect!
—————————————–
Homemade Pizza's
How To Make Homemade Pizza's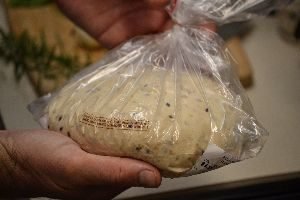 This pizza dough we bought at the grocery store already made.  It's a shortcut, and it's worth it.  A nice dinner that doesn't require a lot of work on our part.
Just throw some flour on the counter, slice the dough in half, and knead the dough on the counter.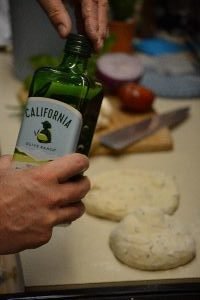 We cut the dough in half and that will make two pizza's.
But first let's prepare the pizza pans.
Here Gordon is putting olive oil and turmeric in the bottom of these pans.
Turmeric is a cancer killer so we incorporate it in our meals every chance that we get.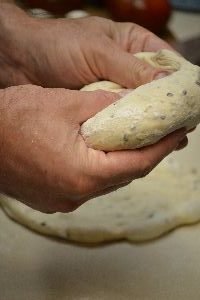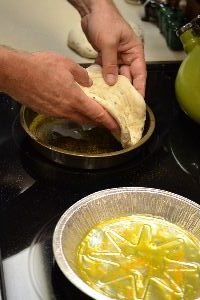 Once the dough is placed into the baking dish, poke holes in it with a fork.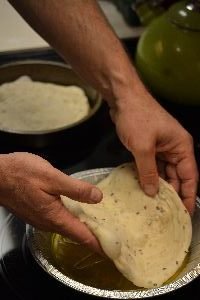 By poking holes into the dough it will stop it from rising and stop it from rising.
Now Gordon is pouring some of the olive oil onto the top of the dough.
Now Comes the Goodies!
Fresh Herbs From our Garden
Basil and Rosemary
Slicing Some Red Onions, Mushrooms, Tomatoes……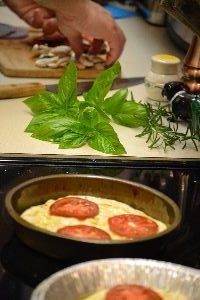 Now start placing the veggies onto your pizzas.
It's so much fun to create your very own personalized pizza.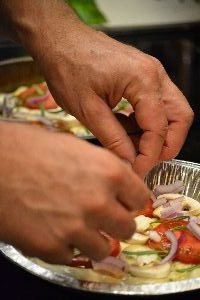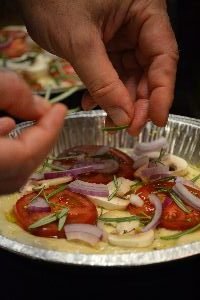 Love The Red Onions!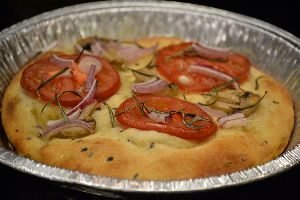 Turn the Oven on 400F.
Cook for about 20 minutes.  Check often to insure that they aren't burning.
Look How Beautiful!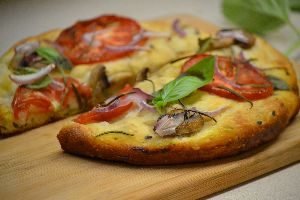 Slice, then Eat!
—————————————-
PIZZA'S AGAIN!!!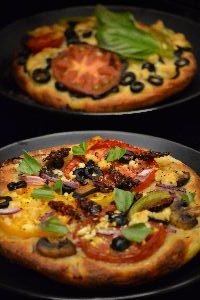 We decided to make them again using different ingredients.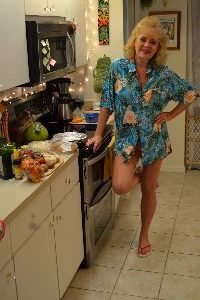 I had dreamed of a pizza with green and black, I told that to Gordon the following day. 
I wanted a pizza with green and black.
Our Pizza Ingredients: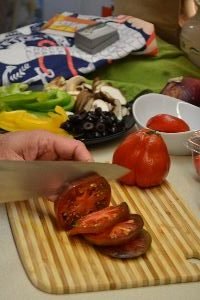 Gordon Slicing Our Black Olives and Delicious Heirloom Tomatoes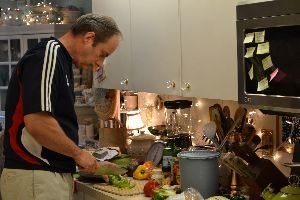 Look How Beautiful!
Heirloom Tomatoes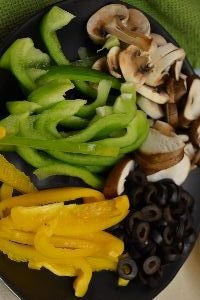 Sliced Yellow and Green Bell Peppers, Black Olives, Mushrooms…..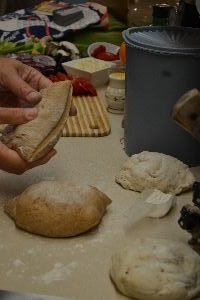 This is the pizza dough we bought at the grocery store.
Here Gordon is adding the olive oil, turmeric, some Mrs. Dash, (a poultry seasoning), and a Chinese Spice Mix, and some Roasted Garlic.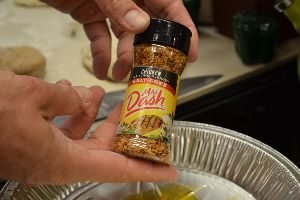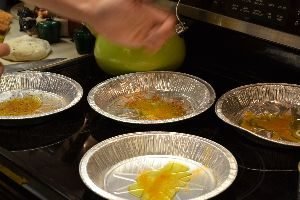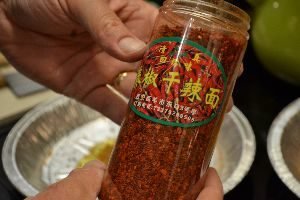 There is no way that I can relate to you this ingredient.  No idea what it says?
The Roasted Garlic
This is what was so perfect about this pizza, the sun dried tomatoes on the bottom.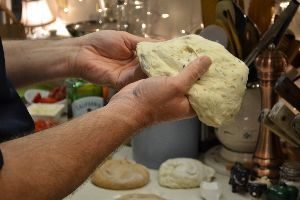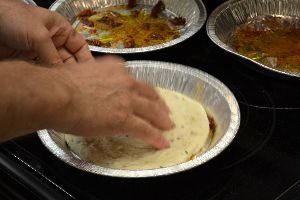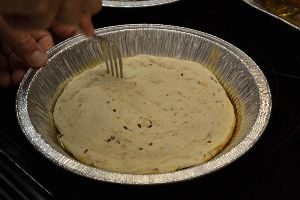 You can see all of our goodies on the bottom of these pizza's.
Now Gordon is poking them with a knife so the bread doesn't rise.
Now Gordon is placing the dough in the pan.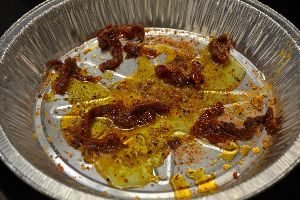 You can see the spices, the oil, and the sundried tomatoes.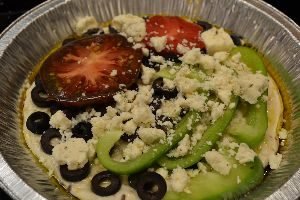 And here is my BLACK and GREEN.
Green Bell Peppers, Black Olives……
Along with Some Heirloom Tomatoes and Feta Cheese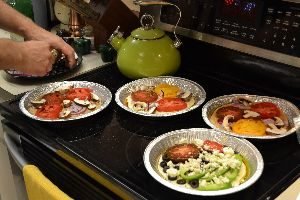 Ready to go into the Oven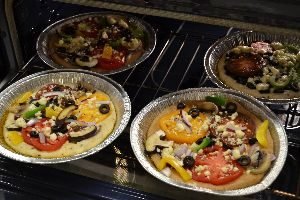 Look How Pretty and Colorful!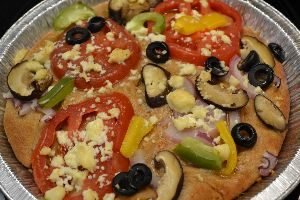 Not to Mention, Delicious!
And Look at the Crusty Bottom…..
Perfect!
———————————————–
Tomato, Ginger, and Honey Salad
The Salad is Picnic Ready
(I had an idea for a tomato salad that I wanted Gordon to make as an addition to our picnic foods.  I didn't know exactly what I wanted but I told Gordon to add some ginger and honey and just go from there.  He did!  And it was so good!)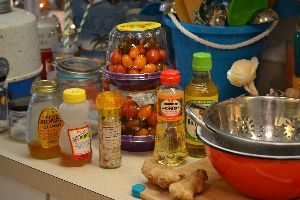 This is a salad that you just need to eyeball and taste as you go when you create this.
Ingredients:
Cherry Tomatoes (We used an heirloom variety of red, yellow and even purple.)
2 T. Fresh Ginger, sliced
2 T. Rice Vinegar
2 T. Mirin (Sweet Cooking Rice Wine)
2 T. Honey
Some Shakes of a Salt (We used our Florida Blend)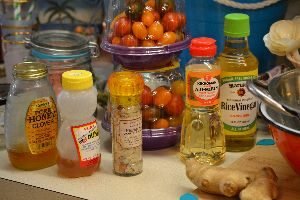 ———————————————-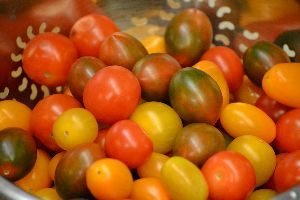 These are Beautiful Tomatoes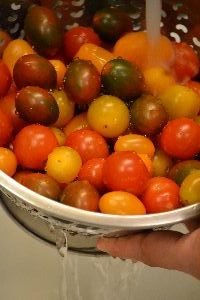 Be sure to wash them.
———————————————–
You want to peel the ginger.  You can do this with a spoon, it comes off very easily.
Here Gordon is slicing the ginger into thin strips and placing them into the bowl.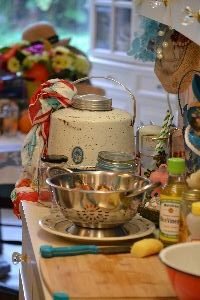 ————————————————-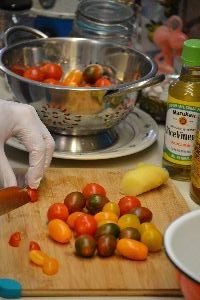 You then want to start to slice your tomatoes in half.
The Kitchen is Looking Particularly Florida  🙂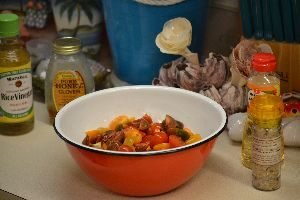 Add Your Tomatoes to the Bowl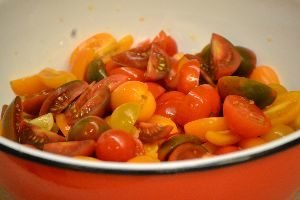 ——————————————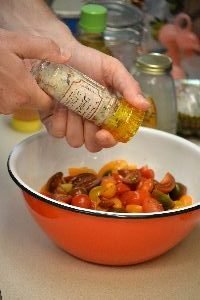 This is a Florida Sunshine Blend Seasoned Salt
(You can use whatever you like.)
You then want to add your Mirin, Rice Vinegar, and Honey.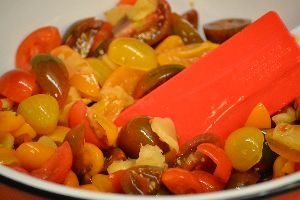 Mix Together Well
Now Your Tomato Salad is Complete
We wanted to put the salad into these jars that are great for travel.
Not only beautiful, healthy, but also Delicious!!!