BREAKFAST:  Breakfast to me, Julie,  isn't just a time of day, it is a menu of foods that are traditionally served in the morning. 
I happen to love eating "breakfast" for dinner.  I also love eating at restaurants that serve "breakfast" all during the day, and evening.  So to us, breakfast is more of a state of mind and appetite, than a time of day to eat it in.  Comprende? 
Alright, well, moving on…..It is early after all.
(We will update as time goes by.  Stay tuned.)
———————————-
Dedicated to…
"Honey on a Plate"
The story behind "Honey on a Plate" is that one night my mother didn't have anything to give me for dinner so she put some honey on a plate and made me some toast to dip into it.  She also gave me some hot chocolate to drink with it.  She was divorced and single and I believe we were living in Atlanta at the time.
Me and My Mother, Mary Keith, in Atlanta, 1960's
(My mother was a Medical Technologist)
I loved it so much that I started requesting "Honey on a Plate" for breakfast, after school snack, the weekends….
Then my brother's came along and they liked "Honey on a Plate" as well.
I had forgotten about it until yesterday morning and I decided that I wanted it for breakfast.
So, "Honey on a Plate" it was!
—————————————
Wake up and Smell the coffee, er roses, whatever….
—————————————-
Good Morning!!
What's for Breakfast?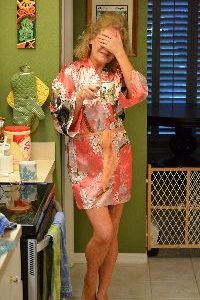 But first, is the coffee ready?
Oh, Thank God!!
(BTW:  This "Ninja" coffee maker is the LOUDEST coffee maker we have ever owned! 
Thank you Veronica and Brian for giving it to us for Christmas.  Sigh….It could wake the dead!  And it usually does.)
So, Gordon, what are you making there?
Oh, good!  I LOVE your omelets.  Make some extra so that I can share with Monk.
I just want the Egg Beaters and some Margarine.
——————————
Julie's Eggs
Most mornings my breakfast is simple.  Just some egg whites and a whole wheat bagel.  What you see here is mine, and Gordon's typical breakfast.  We do like to change it up occasionally, but most days what you see here is what we eat.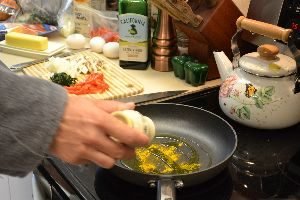 Olive Oil, Margarine….
Oh, and some Turmeric too!
(Turmeric is known for killing cancer cells.  It's a bland spice so it doesn't change the taste of food that much.  We keep some in a salt shaker and we sprinkle it on as much of our food as possible.)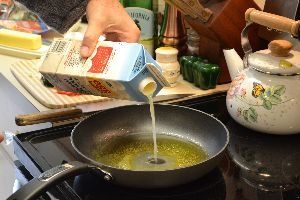 Adding My Egg Beaters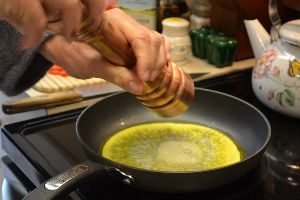 Some freshly ground black pepper…..
Then let it cook away!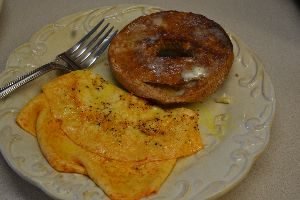 Julie's Eggs
—————————————–
Next Come Gordon's Eggs
Wow!  Look at yours!  How beautiful it is?  You gonna eat all that?
—————————————–
Gordon does make the best omelet's.  Here is yet another example. 
He always uses up our leftover mushrooms, bell peppers, onions, herbs, spinach, etc.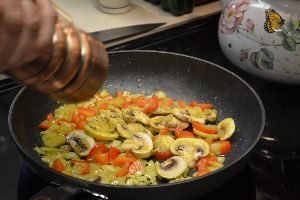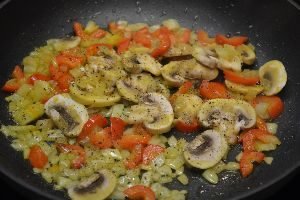 Here he uses some olive oil and a little bit of margarine to saute the onions, mushrooms and red bell peppers.
Then he added some leftover spinach.  The spinach is already cooked, it's just a matter of warming it through.
Now comes the Eggs.  Usually Gordon's omelet's are a combination of large eggs and Egg Beaters.
He always adds some leftover cheese as well.  It just needs to melt.
Flip It Over
Slide it Out onto a Plate
Yummy!
——————————————–
EGGS!
——————————–
Julie:  O.K., so I need you to look Grumpy so that I can take your photo for the What's For Breakfast blog post. 
Just stand there and look Grumpy.
Soooooo, now!
Is that the best Grumpy face you can do?  Try again.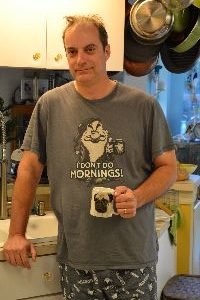 No, that looks the same as the other one.
Try again.
Why are you laughing?
You are supposed to be Grumpy!
O.K. let me try another approach.  Remember the time I got you up at 3:00 a.m. because we had that large tree frog in the house?  And I ran into the bedroom screaming your name and it scared you so bad that you jumped out of bed punching the air thinking we had an intruder in the house?
That's it!!!
Grumpy's Awake!
———————————–
We Do Love Our Eggs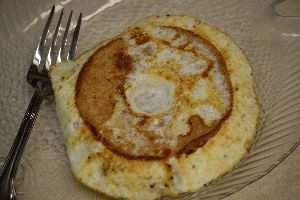 I pretty much eat the same thing every morning.  Half of a whole wheat bagel with some egg whites. 
In order to change things up for me, Gordon started making them a bit differently.
He places the bagel in the pan and then pours the egg whites all over it and cooks it that way.
Same thing, it just looks different.
I don't eat many egg yolks but a yolk would look great in the center, wouldn't it?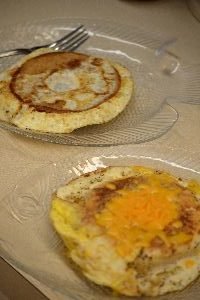 Gordon always puts lots of onions and bell peppers and cheese in his.  But I just like mine plain.
————————————
Recipe Coming Soon!
Fritata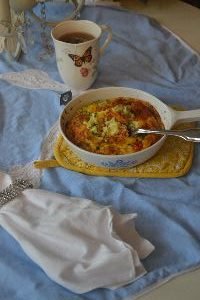 (My only regret is that ugly yellow potholder!)
———————————-
An Egg and Bacon Sandwich
Moment of Weakness
The other night Gordon was frying up some bacon for a recipe he was working on and I looked at all that delicious bacon grease in that cast iron skillet and had the best flashback memory of a fried egg sandwich.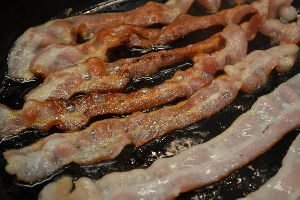 Bacon Grease is HEAVEN!
So, I asked Gordon to cook me an egg in all that delicious grease. 
He cooked me TWO eggs!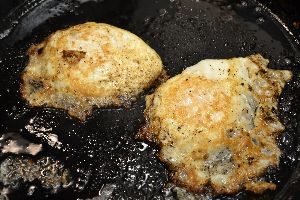 Oh, and the southern way is for the yolks to be fully cooked.  NOT runny!
Perfect!
I savored every single bite!
When I love whatever it is that I am eating, I eat it very slowly because I'm in no hurry for the experience to be over with.  That's how much I loved this Bacon and Fried Egg Sandwich.  🙂
——————————–
Brodie's Eggs
Brodie has taken after Gordon and he can create and cook almost anything, but his eggs do look good!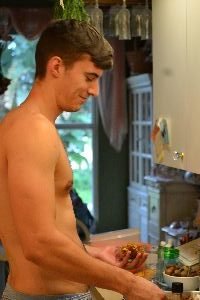 Just put a shirt on.
Mom
———————————
Brodie's Favorite Breakfast
Smoked Salmon, Cream Cheese, Dill, Lemon Juice, and Onions on an Everything Bagel…
topped with freshly cracked pepper!
The Italian Lemon Juice is really good and gives this breakfast a nice fresh taste. 
Brodie usually uses fresh dill as well!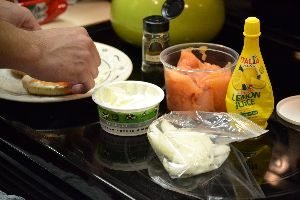 The Assembly
Toast the Bagel, Spread any Cream Cheese you like, then add some Sliced Onions, then the Smoked Salmon, and top with Lemon Juice, Dill, and Freshly Ground Black Pepper.
————————————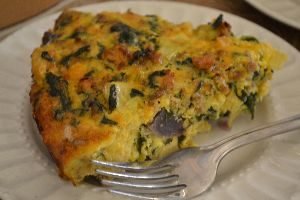 Our Crustless Quiche
I was trying to come up with a name for this and "Crustless Quiche" was all I could think of, and all that we could agree with.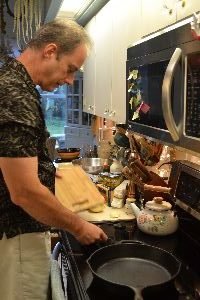 I, Julie, got the idea to expand on our "Artichoke Appetizer" and to turn it into something more than it already was.  It is after all, something of a quiche on it's own.  So I told Gordon that I would like for us to experiment and add things like spinach, potatoes, sausage, etc. and see what happens?  Well, we ATE what happens and it is nice!
So, we are actually doing two recipes here.  I hope that it won't be confusing to you.  I will do my best to try and keep them separate, while combining them at the same time.  Yeah, I know.  But you'll get it.  🙂
Left, our Artichoke Appetizer, and to the Right, our Crustless Quiche
We used the same recipe, we just added more ingredients to the Crustless Quiche.
  That's the only difference.
How About Some Champagne With That?
——————————-
Our Ingredients:
2 1/2 Onions Chopped
3/4 Lb Grated Cheddar Cheese
3 Jars Marinated Artichoke Chopped – save the marinade
1 Sleeve of Saltine Crackers Crushed – (Can use seasoned bread crumbs ~ 3/4 Cup)
5 Garlic Cloves – Chopped
2 tsp Tabasco Sauce
4 Eggs
Ground Pepper to Taste
4 Tbsp Olive Oil
Pam Olive Oil Spray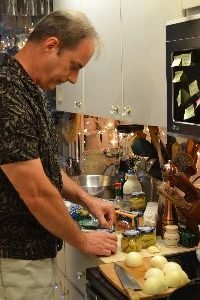 Here Gordon is draining the marinade from our jars of marinated artichoke hearts.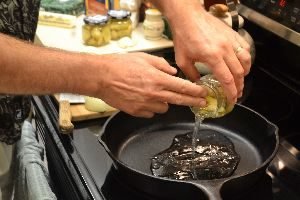 The marinade will be used to saute the onions and garlic.
Chopping the Onions
We ended up adding the marinade of 5  jars overall for both recipes.

Right now Gordon is creating the base for both recipes. 
Then he'll halve the ingredients later on.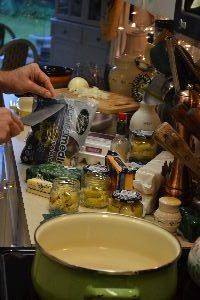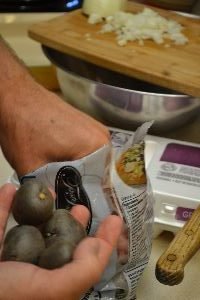 The Blue Potatoes
These will go in our Crustless Quiche. 
But for now Gordon is cleaning them and preparing to boil them.
These are Beautiful!
Here Gordon is rinsing them off.
We've got the onions sauteing, and the potatoes ready to boil.
Adding More Artichoke Marinade
Gordon is adding the marinade as needed. 
When you see liquid starting to evaporate then just add more.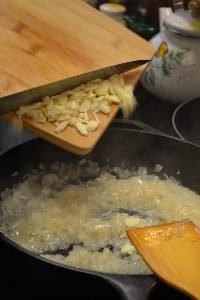 Chopping the Garlic, Adding to the Onions
The Potatoes are Boiling, When Done, Drain
———————————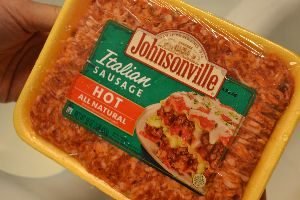 Ground Italian Sausage
You can use whatever you want to, but this is a sausage that we like and eat a lot.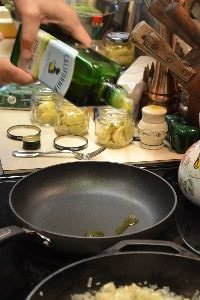 Gordon Adding Some Olive Oil to the Saute Pan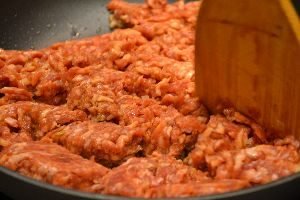 Now, just brown the sausage in the olive oil until cooked.
When done, just turn off the heat and set aside.
————————————
Now, it's time to combine the other ingredients into a large mixing bowl.
Chop the Artichoke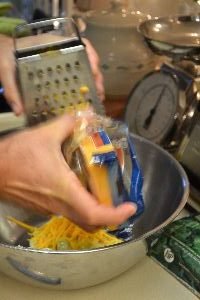 Grate the Cheese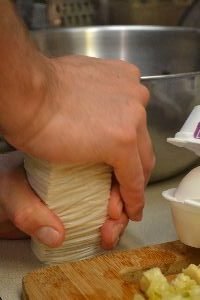 Crumble your Crackers
Add to Bowl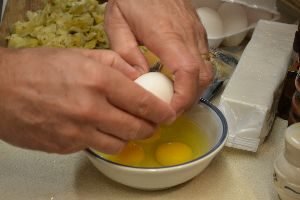 Now, place your eggs into a small bowl, add a few dashes of Tabasco Sauce, then beat together.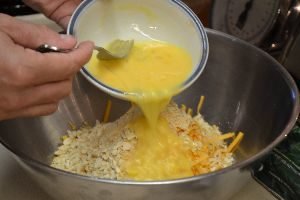 Then, add the beaten eggs to the mixture.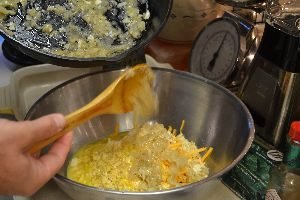 Now, add about half of the onions and garlic that you had sauteed in the saute pan. 
Make sure they have cooled some first.
Then Mix Everything Together
————————————
This base mixture will go into the casserole dish.  Just spray with an olive oil first.
Make sure you smooth out into the dish.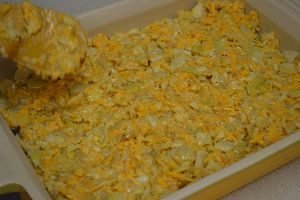 Gordon is wrapping this up to freeze it for another time.
———————————
Now, It's Time to do the Crustless Quiche
Ingredients Here:
12 Blue Potatoes – Boiled – Chopped in Qtrs
1 Lb. Hot Italian Sausage
1 Cup Thawed and well drained Spinach
1/2 Cup Grated Cheddar Cheese
1/4 Cup Grated Asiago Cheese
8 Eggs
1 Sleeve of Saltine Crackers – Crushed
3 Jars of Marinated Artichokes – Chopped
2 tsp Tabasco Sauce
Half of the Sauteed Onions from previous recipe
Here Gordon is adding the Italian sausage that he cooked, to the remaining onions and garlic.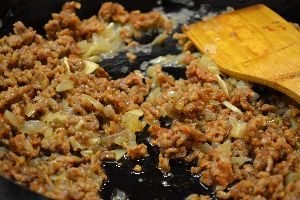 ———————————
This is the same mixing bowl as from above, but now Gordon is now adding the ingredients for this dish.
More eggs are used here to make it more quiche like, than he used in our Artichoke Appetizer from above.
Same base ingredients as before….
eggs, cut up artichoke, grated sharp cheddar cheese, crushed Saltine crackers, dashes of Tabasco Sauce…..
Adding Everything to the Mixing Bowl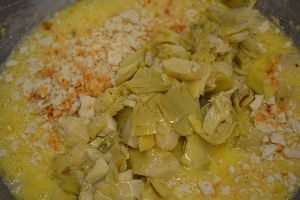 Next Come the Blue Potatoes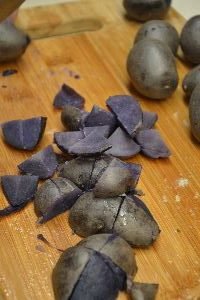 You can use any kind of potato you like, but I, Julie, thought the blue would look very pretty here.
Here Gordon is grating the sharp cheddar cheese.
Now for some grated Asiago
———————————
Frozen Spinach, Thawed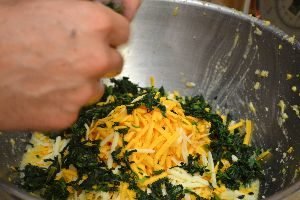 Once the spinach has thawed make sure that you drain it of any excess water.
Here Gordon is adding the spinach to the quiche mixture.
Stir Together, Add some Freshly Ground Black Pepper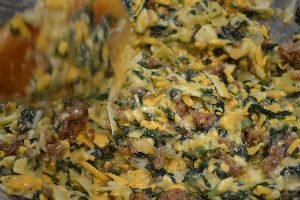 Now add the sausage, onions, and garlic….
Now the BLUE potatoes.
Aren't they pretty?
Mix Together
Now place everything back into the cast iron skillet as it will now go into the oven to cook.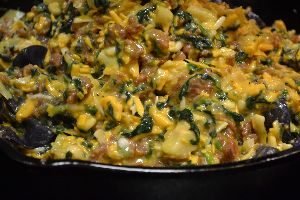 Use a spatula to flatten it down.  Then into the oven it goes on 350F.
Bake Between 35 – 45 Minutes.
We tried to flip it out onto this plate but sadly, food doesn't always cooperate. 
But, it does look pretty just how it is!
———————————–
Remember the quiche that we put in the freezer from above? 
Well, here it is, ready for the oven.
Just unwrap it and place into a 350F oven for around 45 minutes.
It's great with crackers.
Just How WE Like It!
DELICIOUS!!!
For just this recipe without the Crustless Quiche ingredients getting in the way, then keep reading as here is the recipe.
———————————-
Our Artichoke Appetizer
Artichoke Perfection!
This is one of our favorite recipes.  You can tell by the condition of the recipe card in the photo below.
This recipe was given to us by people that we knew in Hawaii.  They had invited us over to their home in Ewa Beach, for dinner one night and this was the appetizer.  We very quickly gobbled this up, asked for the recipe, and we have eaten it on a regular basis since 1990.
We have changed it a bit to gear it more toward our tastes over the years.  We eat this as an Appetizer, something to serve at Brunch, and even as a Breakfast.
I didn't use this much garlic but we do add a lot of it.
Sauteing the onions in the artichoke marinade.
Whenever we make this we always double and sometimes triple the recipe and then freeze the extra to thaw out at a future date.  This is more like a cheese, egg and artichoke savory dish.  We serve it on wheat crackers.
This is plenty for me.  I eat it as a meal.
Great for lunch the next day.  I don't tend to eat much for lunch but when this is in the refrigerator I can't resist!
Artichoke Appetizer
2- 8 oz. jars of marinated artichoke hearts (chopped)
We use 4.
1 medium onion (diced)
We use 1 1/2
1 garlic clove (finely chopped)
We use 3 – 4
2 cups shredded sharp cheddar cheese.
We use 4
1 sleeve Saltine crackers (crushed) or you can use 2 cups bread crumbs in place of the Saltine crackers.
1 tsp. oregano (dried)
1 tsp. basil (dried)
(Can also use dried parsley here as well)
2 eggs (whisked)
We use 4
Drain jars of marinade into a medium sauté pan and use the liquid to sauté the onion until translucent.  Add the garlic and cook another 3 minutes.  In a large bowl place the sharp cheddar cheese, crushed Saltine crackers, the dried herbs, the chopped artichoke hearts and the eggs, stir to combine.  When the marinade, onion and garlic mixture has cooled then add to the other ingredients and mix together.  Place the mixture into a greased casserole dish.  We just spray ours with Pam cooking oil spray.  Bake at 350* for 35 to 45 minutes or until golden brown.
We don't follow the recipe to the letter.  We tend to add more of the things that we like.  We always alter recipes to suit our personal tastes and dietary needs. 
————————————-
Our Leftover Butternut Squash, Sweet Potato Pancakes
We had some leftover Butternut Squash from a dish Gordon had made so we decided to put it in our Sweet Potato Pancakes the following morning.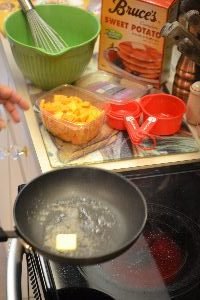 Add your Butter Nut Squash to a pan of melted butter and saute until browned.
Here we finish cooking the squash in the microwave for an additional minute or two.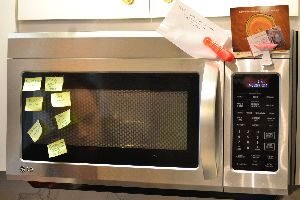 Mix your Sweet Potato pancake batter as per instructions.
Pour in your Sweet Potato batter onto the pan and add the sauteed squash by hand.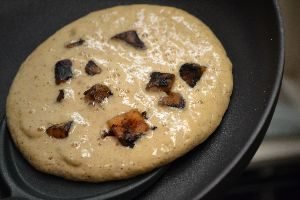 Cook the pancake until the bubbles are firm and carefully flip with a spatula.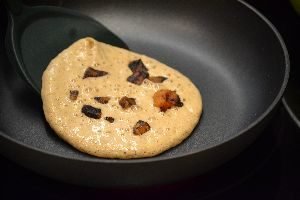 Enjoy!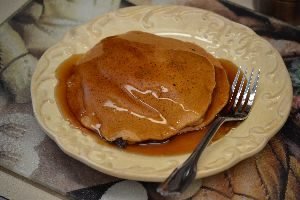 A nice addition to making Ready-Made pancakes.
————————————
THE WESTERN SANDWICH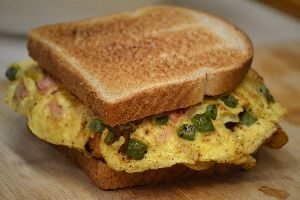 Ingredients:
2 Large Eggs – beaten separately
2 Tbsp Butter
2 Heaping Tbsp Green Bell Pepper
3-4 Onion Slices
2 Heaping Tbsp Diced Ham
Salt and Pepper to taste
3 Slices of White or Whole Wheat Bread – toasted
Slice then dice your ham.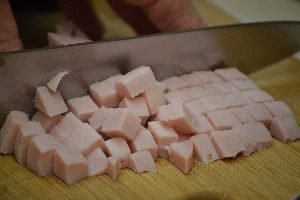 Slice then dice your Green Bell Pepper.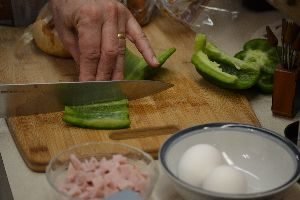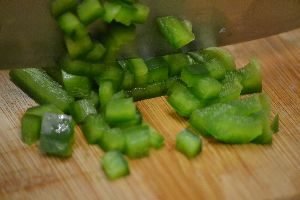 Cut your onion in half then slice thinly.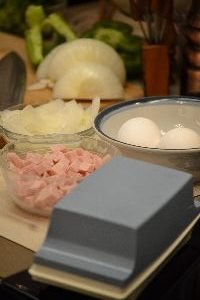 Crack one egg into a bowl and whisk with a fork.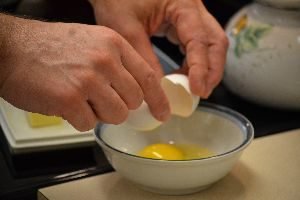 Place 1 T. of your butter in a small saute pan over medium heat.
When the butter is melted, add only 1 heaping T. of the diced Green Bell Pepper.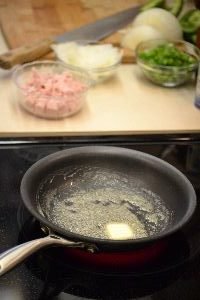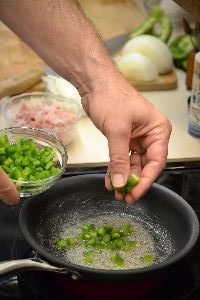 Then add some of your onion slices and salt and pepper to taste.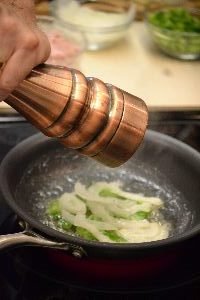 Saute or Flip your vegetables to cook evenly.
Add your heaping T. of ham and saute the ingredients until the onions are translucent and the Bell Pepper is slightly wilted.
Add your whisked egg to the pan.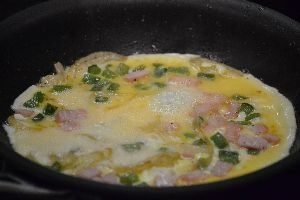 Toast your bread slices.
Flip your egg after a few minutes.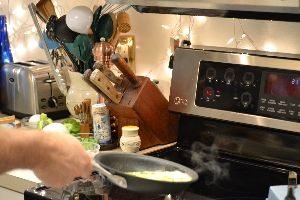 You can also use your broiler to cook the top of the egg mixture, just be sure you have a pan that is oven safe.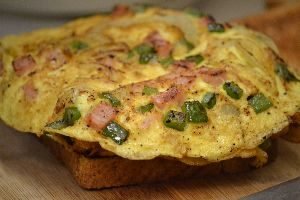 Repeat the above process making a second omelet.
Once completed, place your toast on your cutting board, then your egg and top with another piece of toast.
Finally, add your other egg to the sandwich and top with your third piece of toast.
Triple Decker Sandwich
Slice your Western Sandwich in half and plate.
Order UP!
————————————-
THE Western Whann
(Now for MY interpretation.)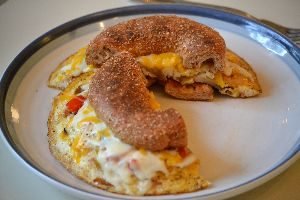 Ingredients:
1 Whole Wheat Bagel – toasted
1 Tbsp Butter
1/2 Cup Egg Whites
2 Baby Portobello Mushrooms – sliced
1 Tbsp each – Red, Yellow, and Green Bell Pepper – Diced
1 Heaping Tbsp Onion – Diced
1 Heaping Tbsp Ham – Diced
2 Tbsp Shredded Sharp Cheddar Cheese
2 Tbsp Shredded Mozzarella Cheese
Salt and Pepper to taste
Black Coffee … Stirred NOT Shaken!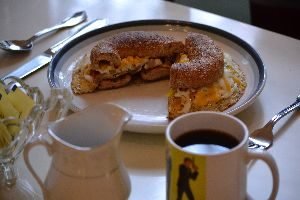 —————————————-
The Ingredients:
Slice your mushrooms being sure to take off the ends if they are old looking.
Slice then dice your Bell Peppers.
I like to use the top and bottom of the peppers, because when sliced, they created curved slices.
(That was my idea, Gordon.)  Julie  🙂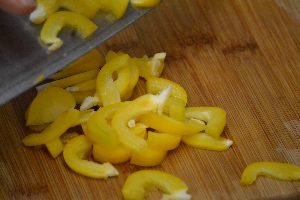 Make sure you have all of your ingredients ready before you start your cooking.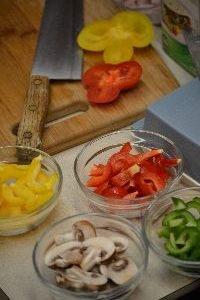 You can add as little or as much as you like!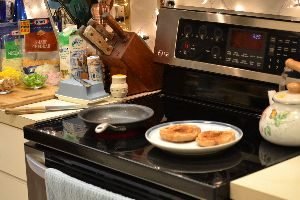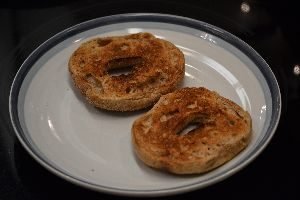 Bagel Is Toasted
Just as the previous recipe, add your butter to a medium hot pan.
When melted, add your vegetables to the pan.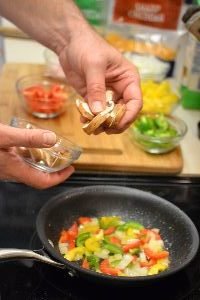 Saute the vegetables by flipping or stirring them.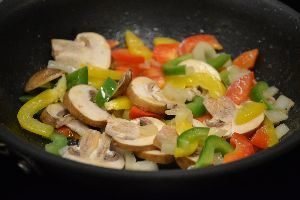 Add your diced ham and cook the mixture until the vegetable are wilted and the onions are translucent.
This will take about 5 min. to complete due to the amount of vegetable in the pan.
Julie did a great job catching me sauteing the vegetables with the camera.

When the vegetables and ham are cooked to your liking, add your egg whites.
Salt and pepper to taste and cook for about 2 min. on the stove top.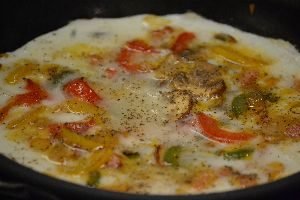 Then, turn your oven's broiler on to high and place eggs under them.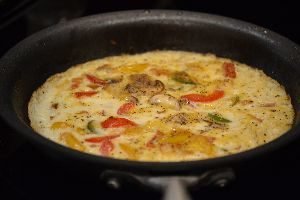 After about another 2 min. remove the pan using an oven mitt and top the egg with your cheeses.
Toast your bagel slices then place the bottom half on your cutting board, then top with your eggs.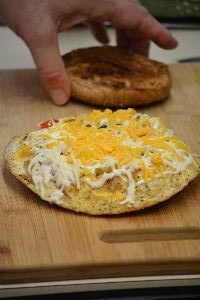 Place the other bagel slice on top of the eggs and slice in half.
Enjoy!
————————–
Have a Nice Day!
Julie and Gordon
——————————–
(I will add to this as time goes by and as I come across old photos I've taken of our mugs.)
My Life in Mug Shots

The Hobo Codes
When I went to The Cryptologic Museum at Ft. Meade, Maryland in 2014 I bought this mug.  Did you know that the hobos had their own codes and they would write them on road and railway overpasses so that other hobos would know which houses would help them and which places to stay clear of because of danger?  I liked that.  Even the poorest of our society helping each other. 
My Life In Mugs is my moods from one day to the other.  When our Australian friends were visiting us and we were at Disney World's Magic Kingdom Gordon was searching for a mug that he wanted to buy.  Leilani commented that we own more mugs than she has ever seen in her life so why do you want to buy another one?  I think that Gordon just smiled at her and said something to the effect that we collect mugs.  I suppose that is an American materialistic gene in us.  No matter, we still buy mugs!  🙂
I brought out the Hobo Mug when Donald Trump was elected President because I knew life would now be hard on a lot of people.  Perhaps learning the Hobo Code is something we should all learn.  🙁
——————————–
 The Creature From the Black Lagoon
These mugs I bought for Gordon and myself when we were going on a field trip to Silver Springs, Florida where the movie, The Creature From the Black Lagoon was filmed.  We both love old movies, especially the classics.  We drank our coffee out of these mugs the morning we left for Silver Springs. 
———————————–
The mugs above I purchased in Indian Rocks Beach, which is right down the road from us in Indian Shores.
I brought these out to drink out of as we awaited Hurricane Irma to hit us. 
———————————
Whichever mood I'm in…….
I am something of a Disney Girl!
—————————————
Breakfast With Vincent
I've started taking my coffee outside on our lanai.  The weather is a bit cooler as I'm writing this in the month of November.  I'm also enjoying looking through my old books, even if I only have time to flip through them.   I also got out my old paint palette.  I have it in the garage just stuffed in a box and I couldn't help wonder why I treat it so badly seeing as how it means so much to me?  Maybe I should bring it inside and set it on top of some of my books.
————————————-
Thanksgiving Morning
Coffee in my Canadian cup and saucer, and some carrot bread.
—————————-

Shhhhh…….My Secret…I Hoard MUGS!!!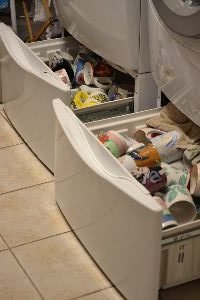 MUGS, MUGS, MUGS AND UH, MUGS
We do have quite the extensive mug collection.  We can't help it. 
Don't judge us!! 
As I've told my kids, "When we die and you go through all this you will make a FORTUNE on Ebay!"
You know, I really don't think we are hoarders, our house is just too small to house everything that we own efficiently. 
So see, we're fine!  🙂
Besides, what else is supposed to be stored underneath your washer and dryer?  Huh?  Exactly!!