Happy Father's Day to the greatest man that I have ever known, my Grandfather,
Franklin Elwood Haskin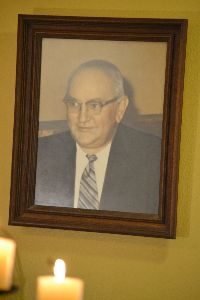 He died when he was 57, I was 14 at the time.  He was more of a father to me than a grandfather.  I think that is because my biological father was a 'deadbeat dad' and he tried to make up for it.  And he did!
The photo above is my favorite one of my grandfather when he was a boy.
  The cute little girl was his next door neighbor.  This was in Vincinnes, Indiana.  I love it!  Her face just says it all.  🙂
Father's Day here in America is where we take the day to honor our father's, or in my case my grandfather.  I only had him around for 14 years but he was a very special man and role model in my life and probably the only positive male role model that I have ever had.
Franklin Elwood Haskin
Postmaster, Rome, Georgia
The photo above was taken some time in the early 70's.
Notice the rubber stamps on his desk?  I have a few of them.
That little mailbox was his.
He was the nicest man that I have ever known, other than my husband.  He always had this big smile on his face.  He was good.  I know that everyone thinks their mother or father or various relatives are the best but I'm not that way.  I only say it if it is true.
Coy and Lillian (Honnie)  Lone, to the left, and Frank and Nell Haskin, on the right. My Great-Grandparents and my Grand-Parents at their home in Rome, Georgia in the mid 1960's.
Coy and Honnie were my grandfather's parents.  Actually Coy was his step-father and one of the original 'leather heads' in college, football player's that wore the leather helmets.  Honnie was originally married to Gordon Haskin when she adopted my grandfather in Vincennes, Indiana in 1916, I believe.  Gordon died when my grandfather was a boy, so the father that he knew the best was Coy, his step-father.
Lillian (Honnie) and Gordon Haskin, Vincennes, Indiana, early 1900's, adoptive parents of my grandfather, my Great- Grandparents.
———————————————————–
Now that I have introduced you to everyone I would like to tell you a story about the most special person to me in the world.  The man who played a role in raising me  up until the day he died.
————————————————————————
Frank as a Boy
I have written about my grandfather in the past and I will probably write about him in the future.  I think of him the most around Father's Day because that is the day set aside for those great men in our lives.
Young Man Frank
None of us, (me, my mother, my grandmother, my great-aunts/uncles etc.) knew that my grandfather was adopted until he died and my mother found the adoption papers while she was going through some things for my grandmother after his death.  It was a big surprise to all of us, to say the least.  We all wondered why he never said a word about it?  Was he ashamed?  There was a stigma at that time attached to children that were adopted.  But we're wondering if it just wasn't that big of a deal to him?  The reason I say that is because we came to find out other things about him that he never mentioned.  Things that were worth bragging about.
For example, we discovered when looking through his old Darlington School year books, The Jabberwock, that he was an honor student.  His teachers even wrote in his year book that Frank was the best student that they had ever had.  Also mentioning that my grandfather, who had taken a Spanish class was the best Spanish speaker that he had ever taught.
We never even knew he could speak Spanish.
Ironically, I used  the logo "Julie's Jabberwocky" in the past, then I find my grandfather's yearbooks called, The Jabberwock.  (Not exactly a very prominent word that you hear everyday.)
My Great-Grandmother Lillian (Honnie) in her Youth
——————————————————————————–
It was after we discovered that he was adopted that my mother starting asking his Vincennes, Indiana relatives if they knew he was adopted?  Those that were still alive anyway.  It turns out that they all knew it.
Once Gordon Haskin died, Honnie married their friend, Coy Lone.  Then the Great Depression happened and Honnie, Coy, and a 13 year old Frank traveled south on their way to Macon, Georgia to find work.  But they didn't quite reach Macon, Georgia because they found work in Rome, Georgia instead and settled there.
————————————————
What my mother was able to learn from the Vincennes relatives was that Frank's birth mother was very young, probably a teenage pregnancy.  She would also bring him a gift every year on his birthday.  At least until they left Vincennes when my grandfather was a boy.We always wondered why my grandfather had such dark skin?  All of his Vincennes relations were so pale.  He also, as he aged, took on a more ethnic look to him.  If you are white in America with dark skin then you have some sort of ethnicity in you.
When my mother was doing the genealogy of my grandfather she discovered that at the time of my grandfather's birth in Vincennes, Indiana there was a Greek population.
Greek?
Wow!
Wouldn't that be so cool?
My mother has had a DNA test done but they focus on the mother and not the father's lineage so of course, it read European.  We knew that as we are Scotch-Irish on my Grandmother's side.
It is doubtful that we will ever know the lineage of my grandfather.
If you read my blog then you know that we recently visited the Greek community of Tarpon Springs.
One reason that I wanted to visit the charming Greek fishing village was that I was hoping to learn something about the culture and maybe find something recognizable in it's people.  Tarpon Springs has the largest Greek population of Greek-Americans in the country.
I guess that I was hoping to find something familiar about the culture.  Something that reminded me of my grandfather.
Granddaddy and Me
What I did find was a wonderfully kind and friendly people that were very polite to us.
I would LOVE to find out that I have Greek blood in me.  But in reality I will probably never know that for sure.  But it is sure fun to hope and learn about the culture anyway.
—————————————————————–
Julie In Florida
Me, 1962, age 1 1/2 at Callaway Gardens
My First Trip to Florida
It just wouldn't be Father's Day without talking about my grandfather, or of me talking about Florida.  This is most likely my first trip to Florida with my grandparents.  There will be many to follow through the years.  Maybe that is why I am living here now.  It is in my head all the happy memories of me with them.  Now I get to relive those memories every single day.
Me, with my Grandparents in Florida 1962
My grandfather always had binoculars around his neck when we were on vacation.  He loved to spot birds, or dolphins, or any sort of wildlife.  Because of him I keep binoculars in my car just in case I spot something worth looking at.
Here we are on a Picnic at Callaway Gardens
I am sitting on my grandmother's lap.
In this photo I am telling my mother, Mary Keith, to wash my feet off. 
Hey, I may love going barefoot but I still like clean feet.
First Day of Summer…….
You know, I would do anything to be able to go back in time and be that little girl again with her grandparents, all that love,  but that will never happen.
I would also love to be able to know the woman that gave birth to the greatest man that I have ever known, my grandfather.  She must have been a very special woman herself.  And I would embrace whatever culture that she came from because she produced the nicest man that I have ever known.  So whether I be part Greek or anything else, I will embrace it, appreciate it, and learn as much as I can from it.
————————————————-
 The Necklace
In the photo above I am in St. Petersburg, Florida at the beach, probably age 6.  My grandparents would bring me to Florida most every summer.  The pretty locket above that I draped onto the butterfly frame, my grandfather bought for me at the Weeki Wachee Mermaid's show.  I can remember how enthralled I was watching these beautiful women wearing swimsuit tops with a mermaid tail swimming around in tanks.  Holding their breathe so long, but they did have breathing tubes.  I remember it quite well.
The funny thing is that the locket above on my picture frame, my grandfather didn't want to buy for me.  I saw it by the cash register and I wanted it!  My grandfather thought that a locket that cost about a dollar was not worth it and he said "no".  I then pitched the biggest fit of my life until he bought it for me.  I still wear it.
I'm wearing it in the above photo, Gordon and I are at a fundraiser for the Wounded Warrior Project.  So granddaddy, I think you did get your money's worth.   You gave me a great memory and a souvenir that I will treasure forever.
I will always miss you,
Julie
p.s.  These necklaces are no longer made because they have a butterfly's wing inside the locket.  I know, how terrible right?  I would not buy anything like this now that I am a more aware and caring person to the environment around me.  But it is something that ties me to my grandfather that I cherish.
FLASHBACK!!
Frank the Photographer
This is my grandfather, Frank Haskin.  I can remember him always having a camera in his hand.  Or a movie camera.  He was always taking pictures of all of us.
This is me, always with a camera in my hand, or in my purse, or in the car……..
Hey, you never know when there is that one moment that you don't want to pass by without recording it.
  My mother is the same way.  I guess I see where we get it from.
In this photograph my grandfather is loading his film in his camera.
In the photo above top is my grandmother on the far right and her sister Opal just left of her. 
In the photo at the bottom are the men that I absolutely adored!  My grandfather on the left, my great-grandfather, "Grand", and my great-uncle Walter, who was married to my great-aunt Opal.
If I were ever to be granted a wish I would not wish for money, I would wish that I could go back in time and really get to know my ancestors in their youth.
You know the movie, Peggy Sue Got Married?  I adore that movie because I would love to go back in time with the knowledge that I have right now and really appreciate those people from my past.  Instead of taking them for granted.  To really get to know them and thank them for being the people that they were.  They were good people.  I just don't meet that caliber of person anymore.  I miss them to this day.
  So here is my homage to them.
I love these men.
They were good men.
These are my Great-Grandfather's chairs that they would sit in.  I have them on my lanai outside.  Wishing they were sitting in them right now.
——————————————–
My Grandmother, Nellie Mae Keith
When I was visiting the old homestead a few years ago in Rome, Georgia, I had my mother to get out the old photos and I had a great look at them.  I photographed a lot of them seeing as how my mother does not want to part with them yet.  I love knowing where I come from.  I keep them all close with me everyday in my thoughts.  I never forget them.
Frank and Nell Haskin
I'm sure that when you took this photo so many years ago that you never dreamed your grandchild would be putting it on a world wide web so that millions of people could one day view it.
—————————-
Frank and Julie
Callaway Gardens, 1962
Memories of My Grandfather
My grandfather in his youth looks exactly like my brother Johnny.
My grandfather was the father figure that I grew up with.  My mother and biological father divorced when I was a baby and my mother and I lived with my grandparents off and on until I was around 6. 
So every Father's Day I always think of him.  He is the one that I miss.  He gave me love, guidance, exposure through travel all across America, and many, many, happy memories.
Me, With My Grandparents
He always treated me as if I was the most wonderful person in the world.  He never raised his voice to me, well, actually he did once, when we had a flat tire in the desert in Arizona and I was hopping in and out of the car while he was trying to change the tire.  But only that one time.  We traveled to most every state in America before I was 14.  There are only a handfull of states that I have left to visit and I hope to someday.
Me at the beach, 1966.
He took me to Florida many a summer.
He taught me how to swim.
He didn't just took me to the beach, but to watch the space shuttle blast off from Cape Canaveral.  Every vacation was not just fun, but educational too.  He gave me more life experiences before he died than most people get in their lifetimes.
—————————————-
Vintage Busch Gardens 1966
Bottom photo, me at Busch Gardens with my Grandparents
They took me everywhere.  I had the best childhood.
My grandmother died in 2000, since then I have experienced such a great loss at not having her with me anymore.  She was the last of such a wonderful generation.
———————————————–
The Postmaster
My grandfather was Postmaster of Rome, Georgia up until his death.  I have some of his postal things with me.  His Postmaster rubber stamp and his little tin mail box.  His rubber stamp still has the rubber band that he put on it.  I won't ever take it off.
The Men in My History
The important men in my life growing up.  My grandfather, great grandfathers and my great-uncle Ray.  They were the positive male influences throughout my life and they were very good to me.
Me with my Great-Uncle Ray, my Grandmother's Brother
Easter 1964
Me with my Grandfather at Busch Gardens
1966
Thank you granddaddy for making me feel like the most special person in the world.
——————————————
My Great-Grandmother Honnie
Day Dreams
This is a photograph of my Great-Grandmother Honnie.  Honnie was a nickname that I gave her when I was a small child.  Her real name is Lillian Alice Miller Haskin Lone.  In the photograph above, entitled, Day Dreams, (she must have written that in herself) she was married to her first husband, and the love of her life, Gordon Haskin.  When he died of a heart attack she married her second husband, Coy Lone.  My yankee Great-Grandmother settling in the deep south?   That must have been very hard for her.  When my mother was born she called my Great-Grandmother, Hone, because everyone was calling her Ms. Lone.  I then came along and started calling her Honnie and then everyone started calling her that.
I miss this woman so much!!  I adored my Honnie.  She was perfect!
The photos above are my Great-Grandmother Honnie out west when she was married to Gordon Haskin and they were surveying for the railroad.  I love the photo of her on the rock.  Gordon must have carried her out there and placed her on it.
They traveled by horse and buggy.
My adventurous Great-Grandparents.  I would do anything to have known them at this time.  I'll bet Honnie was a spitfire then!  She died when I was 8.
I have that railroad spike, by the way!
Surveying the railroad out west.  The photo album is of my Great-Grandparents account of their trip.  The big tent that says, 'The Bar'.
My Great-Grandmother is the second from the left.
The flattened coins above, are the ones that my little brothers placed on the rails of the railroad tracks so that a train going by would flatten them.
Honnie is in the photo top right standing beside her friend with the coolest old camera!  Gordon is in the photo bottom left acting silly.  When I look at all their photos from when they were married and living in Vincennes they obviously had money.  Their lives were comfortable.    Because their lives were comfortable they were happier than those who's lives were not.  A lot of their photos are of them with their friends laughing and goofing around.
The north had money.  When you look at census records at the time they had jobs that were like secretary's, surveyors, shop keepers, seamstresses, bankers, etc.
The south was poor, most of their jobs were farmers and housewives.
Ahh, family history.  There is nothing like it!
Day Dreams……………
———————————————

Tea With Granddaddy
I tend to associate material possessions with memories, and people that I love.  That's probably why I am something of a hoarder. 
So this Father's Day I did, in a way I guess this is my "shrine" to my Grandfather.
In the photo of him as a young man, the frame I found at a thrift store for just a few dollars.  It was made in Italy and it has such good ornate quality to it.  It's PERFECT for my Grandfather's photo.
Classic Cars Drinking Glass with Matching Coasters
I grew up seeing these antique automobile drinking glasses in my Grandparents home.  So when I saw these at an antique mall I just had to get them.  My Grandfather would drink his ice tea out of them.  Now I can drink mine, and think of him.  I found the matching coasters with them.
I found this old wooden box at a thrift store in Maryland.  I use it to house some keepsakes of my family.  Here I've got a newspaper clipping of my Grandfather when he became Postmaster in Rome, Georgia.  My Grandmother is also in the photo.  I also have his obituary  and some of his cufflinks and some old photos of his.
This photo is of my Grandmother and Grandfather left,  when they were dating.  I put it in a rhinestone picture frame and added a vintage rhinestone accent to the top of it.  It's just some broken jewelry that once belonged to my Grandmother.
                                                                                                                                                                                                                                                                                                                                                                                                                                                                                                                                                                                                                                                                                                                                                                                                                                                                                                                                                                                                                                                                                                                                                                                                                                                                                                                                                                            I made a commemorative tray depicting the men in my family that have since passed.  My Grandfather, Great-Grandfathers and my Great-Uncle.  I did the same to the women in my family.
                                                                                                                                                                                                                                                                                                                                        My FAVORITE photo of my Grandfather as a boy, at right.
                                                                                                                                                                                                                                                                                                                                                                                                                                                                                                                                                                                                                                                                                                                                                                                                                                                                                                                                                                                                     What is it about men in cars?  A young Frank Haskin sitting in his car.
———————————————————-
Dried Roses
I think they look very well with my old faded memories here.  Don't you?
———————————————————————–
Handmade Stool

My Grandfather made this stool. 
I have it now and it sits in the nook under my bathroom counter just perfectly!  I love it!  It is something that he made that I will treasure forever.
The paint is all crackled with age.
————————————–
My next project that I will be working on.
My Grandfather's old mirror.
(Well, someday.)
I have the mirror upside down here.  There is a piece missing from the bottom and I will need to find something to replace it so that I can hang it up.  Otherwise the glass will fall out.
   Photo at right, is the back of the frame.  I am not interested in restoring it so that it looks perfect and different.  I just want it to look the same but be able to hang on the wall safely and the glass not fall out.  I love all the age and wear and tear.
Me, a self-portrait.  This photo depicts the real me.  Always having a camera in my hand.  You never know when something magical may happen.
Everything in life is temporary, except when you take a picture of it, then it lasts forever.
Julie