Julie Summer…….. is…..

Currently In Progress…….
(My vintage swimsuit from The Creature From the Black Lagoon, worn by Julie Adams.)
Julie Adams in the Mangroves of Florida

—————————–
Don't Forget the Sunscreen!
——————————————-
Also check out our………
Click Here for:  Sh.. sh.. sh.. sh.. SHAAARK Week
Who Doesn't LOVE Shark Week?
———————————————
To me Summer was always the time between one house to the next.  We did move around a lot when I was growing up.  It also meant lots of time to myself.  Lots of reading time, lots of reflecting time, lots of preparation time…..for the next school year.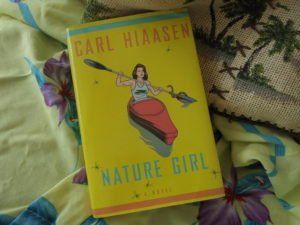 Excellent Book
Nature Girl by Carl Hiaasen
But for those 3 months I usually had them all to myself.  I suppose that may sound very sad to you, and sometimes I was very sad, but those months taught me how to entertain myself.  It taught me that I am responsible for my own happiness.  I may have been alone but I was never really lonely.  It also taught me independence.  I realized how much more mature that I was compared to so many other girls my age.  I was never afraid to do anything by myself whereas they couldn't even go to the bathroom alone.  
————————————–
Books may have been my best friend but so was my imagination.  We always had a bit of land to roam around on and that meant that we had lots of animals, horses, dogs, cats, ducks, a hermit crab, reptiles, snakes (on the property). 
We also had ponds, row boats, tractors, barns…..
Summer also meant picnics, camping, hiking, vacations, summer camps, horseback riding lessons, baton twirling lessons, swimming lessons, and hey I just remembered, I went from a minnow to a shark at summer camp swimming lessons.  🙂

I think my mother enrolled me in most everything just to get rid of me.  But, I have carried all of that knowledge with me through the years.  And if you think about it, that's all we ever really have in the end, knowledge and memories.

I loved SUMMER! 
I just hated it when school started!
  But my Summers?  They were enjoyable!!
I hope to fill this blog with lots of fun summer things because luckily for me I live in Florida where we have summer far more than we have Autumn, Winter and Spring.  (wink, wink)
Just a few Favorite, Pretty Things
—————————————
Click Here for:  Julie's Beach House
This was just a fun project to create.  Kind of like my own grown up "Barbie Dream House" except I get to create it, paint it, decorate it, and do whatever I like to it.  I've never had so much fun designing something.  🙂
—————————————
Also Check Out Our…………
Click Here for:  Sum Sum Summertime
—————————————-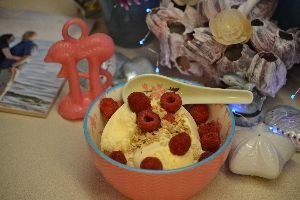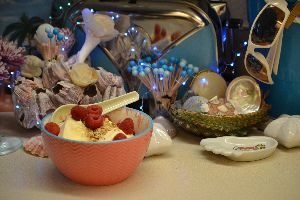 We all Scream…..
Wouldn't be Summer without Ice Cream!  🙂

——————————————–
Blog Entries Start Here
———————————-
Summer Bathroom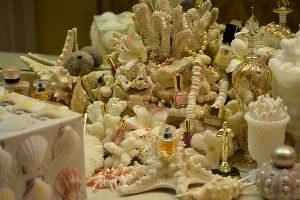 I Love my Bathroom
I have coral that I found in Hawaii snorkeling, Puka Shell necklaces that I bought at The Aloha Flea Market in Honolulu, some Knobby Star Fish that I purchased, some vintage milk glass that I inherited, and some lovely lipsticks, perfumes, moisturizers, etc.
It all makes my bathroom beautiful!
The Shell Box I made by hot gluing scallop shells to a box wrapped in white paper.
—————————————–
Summer Kitchen
I do have to say that I thoroughly enjoying turning my kitchen into a vintage Florida Souvenir Stand.
That would be Veronica and Brian on the beach at Tarpon Springs for their engagement photos.
Morning Coffee…..
Some of these items in these photos were actually purchased decades ago at Florida Souvenir Stands.
My very Festive Summer Kitchen
—————————————–
Summer Lunch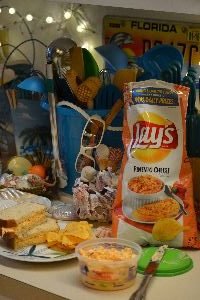 Although I really don't want to make this about food, that seems to be what I am doing here. 
This is a typical southern summer lunch.  Pimiento Cheese Sandwiches and some sort of potato chips.  Here I came across the Lay's Brand of Pimiento Cheese Potato Chips.  Perfect with my lunch here.
This is a Palmetto Cheese, Pimiento Cheese Sandwich spread.
I have such excellent memories of the women that I knew and loved in the south, making their very own Pimiento Cheese Sandwich spread.  This brand is the closest that I have come to southern homemade.
—————————————
Summer Ice Cream Treat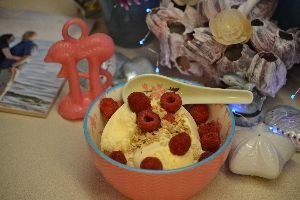 Although this may be difficult for you to believe, I am not a big ice cream person.  I never have been.  It's not that I don't like it, it's so creamy and delicious!  It's just that I didn't grow up eating it very often, other than the summers, or at birthdays, so therefor I just don't think about it.  When so many rush to the ice cream section of the grocery store because it is a big part of their lives, I tend to pass it by.  I may feature ice cream on the website but I tend to just eat a bite or two and then pass it to someone else to finish.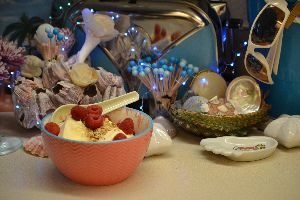 However, when I do eat it I like something crunchy on it and some fresh.  Hence the Bear Naked Granola and the fresh Raspberry's.
—————————————
BAREFOOT WINE
I am a big Barefoot Wine lover!
This is a favorite wine of our family and we do drink it quite often.  It wouldn't be Summer without it!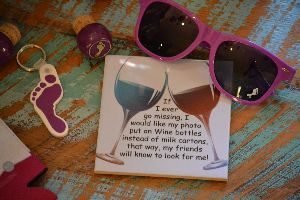 If I ever go missing, I would like my photo put on Wine Bottles instead of milk cartons, that way, my friends will know to look for me!  🙂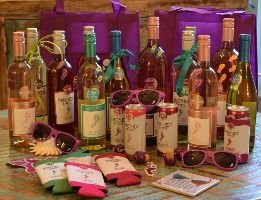 Our Summer Gifts of Barefoot Wines
Happy Summer!
—————————————–
My Sugar Free Sweet Treat
This is my all time go to for my sugar-free sweet treat fix!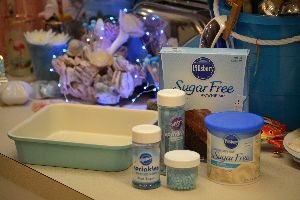 Sugar Free Brownie's/Sugar Free Vanilla Frosting
(And uh, Sugared Sprinkles)  Shhhh……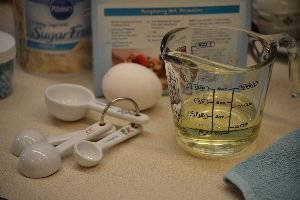 It's so simple.  Just one egg, 1/3 cup vegetable oil, and about 3 T. water.
Mix Together
Place into a Baking Dish and then Bake
When done remove from oven and let cool.
Then spread the Vanilla Frosting over top.
Add some pretty Blue Sprinkles.
——————————————-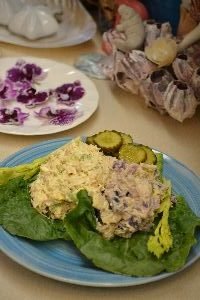 It wouldn't be Summer without Chicken Salad and Potato Salad
and I do make some very tasty salads……
———————————-
Anne of Green Gables
by Lucy Maude Montgomery
Diana Barry:  "I wish I were rich and I could spend my whole summer at a hotel eating ice cream and chicken salad."
I love the series Anne of Green Gables and this quote has always stood out in my mind.  Probably because I love chicken salad as well.  It wouldn't be summer without it.
——————————————-

The Florida Hurricane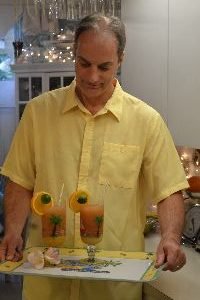 A.K.A. IRMA!!!!  (2017)

We needed something a little bright with sunshine as we waited for Hurricane Irma to arrive.  We knew she would be delivering her wrath the following night.  And we wanted to just enjoy a nice treat before all hell broke lose!!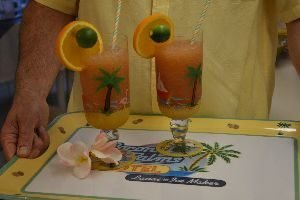 The Florida Hurricane
Garnished with a slice of Florida Orange and our Key Limes
The Ingredients:
3 shots Captain Morgan's White Rum
2 Tbsp. Key Lime Juice
1 Cup Guava Juice Concentrate
2 Shots Kraken Spiced Rum
2 Tbsp Splenda Sugar
~15 Ice Cubs
Garnish with Key lime and Orange Slice.
——————————-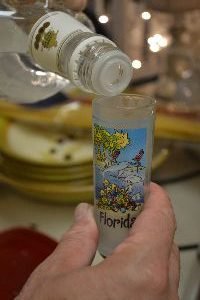 Start by pouring your Capt. Morgan's rum into a blender.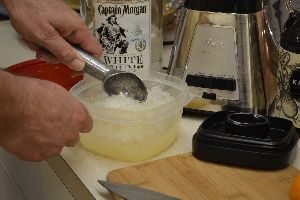 Here, we froze some fresh Key Lime juice from our own tree in the back yard.
This Guava is a good concentrate to use and I think it makes the drink very tropical.
—————————————-
Now, add your Spiced Rum.  I have found that this brand (Kraken) is a good one and not too heavily spiced for our tastes.  See what you think!
Now, add about 15 or so ice cubes.
Then, blend the mixture well!
And add your Splenda sugar to taste… I added about 2 Tbsp.
Mix again just to incorporate the sugar.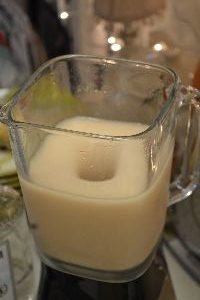 I (Julie) couldn't help but notice that this looked like the hurricane that was headed for us.
For the garnish, simply slice into a Key Lime about half way into the fruit as shown.
This will keep the Key Lime tightly on the glass.  Then slice your orange wedges as shown, slicing just up to the center of the orange wheel.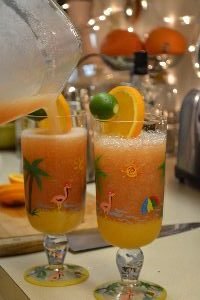 Place your garnishes on the glass as shown and pour in the drink and you are all set!
Kinda Looks Like a Beach Ball (The Key Lime)
ENJOY!
——————————————-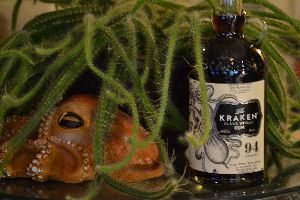 RELEASE THE KRAKEN!!!!
(I brought this plant in the house when Hurricane Irma was approaching and I couldn't help but see a connection between it and our fish tank giant squid, AND the bottle of Kraken.)  🙂
——————————————
And Oldie but a Goodie (as in 2012)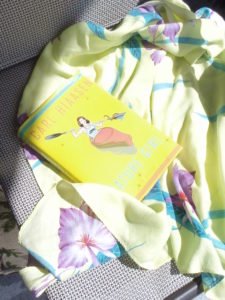 These old beachy photos were taken in 2012 at the beach condo out on the balcony.
I just wanted to include them here.
My Sarong Collection
I love all things beachy!
The tray, the fish net, the star fish, the sea shells…..
Candles and Sea Shells and my Pretty Florida Dress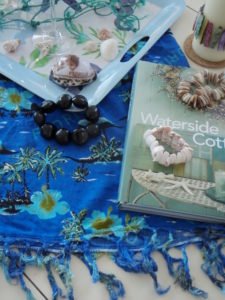 A Nice Decorating Book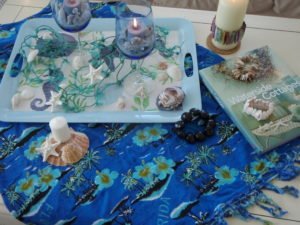 A Pretty Setting……
————————————–