Meet Sparky and Spooky
August 19, 2019
Meet Spooky and Sparky
They are the newest members of our family.  They are rescue dogs.  A mother and her son.  Spooky is a Chihuahua, and Sparky is a Chug.  A Chug is a Chihuahua/Pug mix.  Sparky's father was a Pug.  Their story is a very sad one.  They lived in a trailer park.  The father sold drugs and would abuse the dogs.  I believe the wife did alert Pug Rescue and a volunteer went out there to retrieve them and take them away.  But, there were days when they got no food or water.
The drug dealing father kicked the pug father so badly that his stomach swelled up to the size of a basketball and he wasn't able to use the bathroom for two weeks.  He was rescued and placed in a hospital for weeks.  I don't think he made it.
What amazes me about these two is how quickly they fit in here.  They are so happy with us!  It's as if they knew this is their home now.  🙂
I remember back to when we first adopted Monk, how sad he was for days.  I would sit with him many a day and just hold him and pet him because he was so sad.  He had been passed around so much prior to us getting him.  I wanted to assure him that this is his forever home and that we will love him, and care for him forever.  And we did.  When we adopted Sugar she acted as if we had kidnapped her.  Hyperventilating for 2 days!  My god I thought she was going to have a heart attack!  But they both settled into their new environments and realized that we were going to take care of them from now on.  A pug's lifespan is 14 years.  We got Sugar to 14, but we got Monk to almost 17.
With Spooky being 4, and Sparky being 3, we will have them for many years to come.  🙂
It's been 2 weeks since adoption day and we are still getting to know each other.   When I brought them home they had no concept that all that these dog beds were for them.  So, they would sleep on the cold tile floor in the kitchen as that is what they are used to.  Finally, they realized those beds are for them.  Oh, and because I am so lazy and I don't feel like dragging one dog bed around the house, therefor I have 4 dog beds. 
Dog toys are also a bit foreign to them.  They just don't know what to do with them?  Sparky is getting the hang of it when we toss the toy he does know to run after it, but he doesn't know to retrieve it and then bring it back to us.  He just runs after it and then stands there.  But they are learning.  Just feeding them in bowls is new to them.  I don't know that they are used to that.  They also won't eat if I'm standing there.  I have to leave their eyesight otherwise they won't eat.  It probably has something to do with the abuse they suffered.
You know, an evil person can ruin someone in one minute but it takes year's to undo that one minute worth of damage.
I wish that I had some great photos to post of them but with this terrible soaking wet August there is no where really dry to take photos outside.  And when it is dry there is so much mold, and mud from all this rain and humidity that we have to do some cleaning outside first.  But, I'm thinking there will be plenty of years to take photos.  🙂
With Gordon being overseas all he knows of them are photos that I send him and he hears their barks when he calls.  He loves Sparky's bark!  But, Spooky is something of a yipper.  Most men don't like yipper's, but Gordon does say that he loves Spooky's little yip.  He has been doing research on them online and he is quite impressed with the loyalty of Chihuahua's.  They are territorial and extremely loyal to their families.  I have discovered that most Chihuahua dog owner's LOVE THEM!  It's people that don't own them that don't love them.  (I do hate using that word "own."  But I know no other way to describe how other people view them.)

We are settling in with Spooky and Sparky and they are getting to know us as well.  We are trying to establish a routine.  But for some godforsaken reason they start barking at 6 fickin' 30 every morning!!!!  (We are working on that though.) 
Proud Mom of Spooky and Sparky,
Julie
————————————————————-
August 2019

Sparky and Spooky
The cutest little dogs in the world!  🙂
———————————————————————
August 3, 2019
Doggie Adoption Day

Julie and Veronica in Clearwater, Florida
———————————————-
Ever since our beloved Sugar and Monk died,……
Click Here For:  Monk and Sugar Blogging

……we knew that we would be adopting more family members of the canine variety to be a part of our lives.  I had signed up to receive notices from doggie adoption agencies in and around our area, and I would view the dogs that were up for adoption.  I would even inquire about a few but most of the time my inquires would go unanswered.  Finally I saw these guys up for adoption from
—————————————————–
Pookie & Sparky – "Pugs" of the Month (bonded pair)
July 27, 2019

|

Ready for Adoption
If you are looking for double the cuteness, well look no further!
Introducing Pookie and Sparky, and bonded mother and son! They are looking for a home where they can stay together forever, and we are hoping that home might be yours!
First, let's talk about Pookie. She is an adorable 4-year-old white chihuahua. (and mom to Sparky). She is very loving and devoted, and loves to snuggle. She will curl up against your neck to take a nice nap. At night, she loves to sleep under the covers. Pookie does have a strong alpha personality, and can become a little protective over her human if other dogs are around. She will need to be in a home with no other dogs (except Sparky, of course) or another submissive dog.
Next comes Sparky! He is a 3-year-old pug mix (chug), who loves to snuggle and give kisses. He loves belly scratches, and will lay on his back with his head in your arms. He just wants to be loved on all the time! If you will let him sleep in your bed, he will cuddle up next to you and keep you warm all night.
As a bonus, these two pups are completely potty trained and housebroken. No chewing on furniture for these two! They are also both healthy and have no current medical issues. They are up to date on their vaccines and heartworm negative.
As our "Pugs of the Month" the adoption fee for this pair will be waived so their new family can spend that extra money on treats and toys to help them start their new life.
Pookie and Sparky are keeping their paws crossed that the right family comes along quickly. If you feel you are a good match, please fill out an adoption application today at
https://pugrescueofflorida.org/adoption-application
—————————————————————————–
FUN FACTS ABOUT POOKIE:
BREED: Chihuahua (female)
AGE: 4
WEIGHT: 12 pounds
BEST QUALITIES: Loveable nap buddy
—————————————————–
FUN FACTS ABOUT SPARKY:
BREED: Chug (male)
AGE: 3
WEIGHT: 19 pounds
BEST QUALITIES: Well trained, and great snuggler
LOCATION FOR BOTH: Clearwater
Pookie and Sparky in Foster Care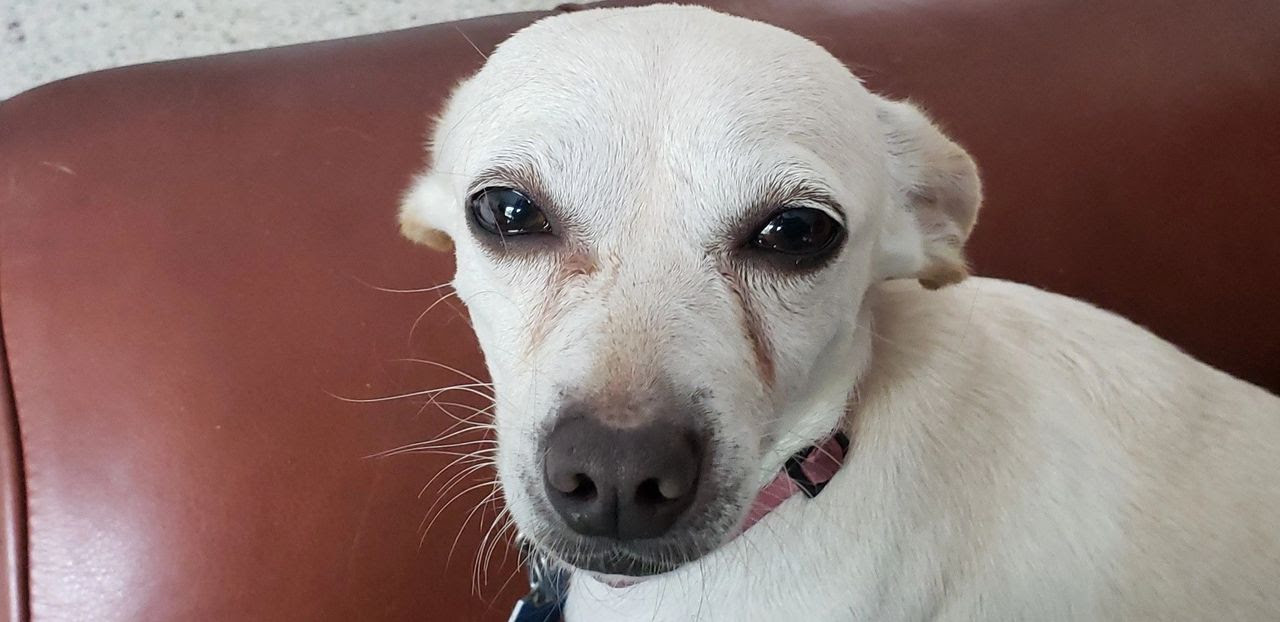 So, I ended up inquiring about Pookie and Sparky.  I had my home visit from the organization to make sure that we were a good family to adopt.  We passed with flying colors!  I was so happy to hear that the woman and her son who conducted our home visit determined that "any dog will be happy there."  That made my day!
But, I then saw a special needs dog named Fiona that I was interested in adopting.  I fit the criteria to a T, except when it came to our home.  It has mostly carpet, and Fiona will automatically urinate on carpet.  They say that because she was a rescue from Puerto Rico that lived her first 2 years in a kennel cage, that she assumes carpet is grass and will urinate on it no matter what.  That meant that the only solution is for me was to diaper her all the time.  The Pug Rescue didn't like that as she isn't incontinent.  So, they turned me down.  I was so very sad but I was approved to adopt other dogs within the agency.
I then remembered Pookey and Sparky!  So, I contacted them and asked if I could adopt them?  They told me "yes."  They also told me that they were FREE as no one has wanted them.  FREE?  Sounds good to me!  The best things in life are FREE!!
————————————————–

Last Saturday my daughter Veronica and I drove out to Clearwater to pick up Pookie and Sparky and bring them home!  They were so panicked at first.  Scared.  They didn't understand where they were going and why?  That is one reason I wanted to take Veronica with me.  I knew that I may need help in getting them home.

Sparky and Pookie in my Car

They are so sweet and cute!
Pookie and Sparky Exploring Their Backyard
I brought them home and turned them loose and they fell madly in love with their surroundings.
Around the Magnolia Tree
All they want to do is to snuggle, and be close to me.
So, I moved a chair close to mine by my computer and that is where they sit.  Just while they adjust.
——————————————————
I have to say that I am not a fan of the name, Pookie.  I did originally think of the Taco Bell dog whose name was Gidget, but her stand in was named Taco.  A name that I love!
Gidget, the Taco Bell Dog
I am famous for my chicken taco's.  Veronica and I adore Mexican food, especially taco's.  So, I really wanted to name Pookie, Taco.  Veronica and Brodie even had the Taco Bell dog toy from when they were little.  We loved that little Chihuahua!

Pookie in JAWS's mouth left, and Sparky and Pookie, right.
Seeing as how Pookie would not respond to the name, Taco, I knew that I had to come up with a name similar to Pookie.  That is when I realized that the name "Spooky" would be perfect!  She is solid white!  I adore Halloween!  I adore everything spooky!  I also adore the X-Files and the name, Spooky Mulder…….
"Do you think I'm spooky?  That's spooky.  That's my name, isn't it?"
Fox Mulder
Therefor, Spooky and Sparky, it is!
Mackenzie with Sparky and Spooky
Happy Adoption Day!
Julie
p.s.  They are the the happiest dogs!  They fit right in.  There has been no adjustment period.  They just know this is their home.  I/we could not be happier and I could not have chosen better dogs to fit in with our life.  🙂
---