(Yep, still sittin' here.)
Welcome to Blogging With Julie Continues…………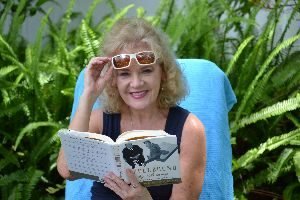 Outside in the Backyard
Welcome to my new blogging post. 
I'm very happy to have you here and I hope you will kick off those shoes and stay awhile.
For past 'Blogging With Julie' posts,
(For past blog posts see the Julie Blogs at the top of the homepage bar, or chick on the links below.)
———————————————————
Blogging Starts Right Here
I am happiest with a camera in my hand.
No matter where I am.
Julie
———————————————-
My Motto Is:
"Just do the right thing and suffer the consequences."
Julie Lancaster-Whann
—————————————————
An Explanation:
I have a cyber-stalker, his name is Paul and he has been my cyber stalker now for 2 decades, actually we think it goes back to the early 90's with our very first computer.  I even started a blog post about him.  I started writing about him as a way of exposing him and telling all of you what I go through on a daily basis.  A reader of mine in the U.K. read my blog about him and wrote me telling me that it explains a lot.  You see, she has been reader for a few years.  She told me that it explains why links don't work and pages no longer exist.  Yes, this is what I go through.  He is a very skilled hacker/stalker and has a very sick obsession with me.  I want you to know this because every time a link I post doesn't work, it's him.  Every time a page disappears, It's him.  Every time my website goes dark, it's him. 
His name is Paul, he is my husband's former best friend since childhood, he works for a major software company in Charlotte, North Carolina and he will never leave me alone.
To read more see my:
What It's Like to be Cyber-Stalked

7-15-2016
What Paul fears more than anything is exposure.  He keeps messing with my website links so I am ready to reveal his middle name.  If he keeps sabotaging my website then I will reveal his full name. 
7-25-2016
I just noticed that Paul had added question marks after some of my sentences on my:
http://www.barefootinfloridawithjulie.com/blog/2016/04/12/blogging-with-julie-2/
therefor tampering with it, so it looks like I will be starting to reveal your last name Paul. 
First letter is:
Paul Keith Gray

of Charlotte, North Carolina
———————————-
7-27-2016
Yesterday there was an attack on my web hosting company.  My website kept going down.  Last night my website was accessed, many files added, and modified, and the log in information wiped clean.  This came on the heels of my revealing the first letter of his last name.  I can't say anything more about that now BUT, I am revealing the next letter in the name of my cyber-stalker Paul.  Just two more letters to go, Paul.
7-30-2016
Paul Keith Gray
Looks like we finally made it to my cyber-stalker's full name.  Oh, he will try and crash my site.  If you didn't notice my site crashed two days ago when I started to reveal Paul's last name.  Here are some of the last photos we have of him.  Granted, they are from a long time ago.  But nonetheless, he still looks similar.
Gordon on the right, Paul on the left.
At our house in Honolulu, Hawaii
Here is also Gordon with his brother Jeff, right, and Paul on the left.
Paul will retaliate over this, that's what he does whether I talk about him publicly or not.  But whatever happens, happens.  I'm tired of staying silent, I'm tired of being a victim of his.  It's over Paul, you are exposed!
Julie, your victim no more.
To read more about my cyber-stalker Paul Gray, just go to my:
———————————————-
Halloween Preview
Special Agent Dana Sculley
(Like the red wig?  It's a Christie Brinkley wig.)
Getting Ready for Halloween
Shooting some of our most favorite X-Files Episodes
Can't wait for Halloween
Julie
p.s.  I look horrible as a red head.  Although my biological father was a redhead.
One of my favorite episodes on X-Files is called Arcadia and it is about a crazy home owner's association, (reminds me of ours) where they kill people that don't adhere to the CC&R's, (like ours.)  So, seeing as how we were getting new carpet in our dining room, and having to move furniture around, I saw opportunity and we are photographing our "Arcadia" episode.  Kewl, huh?
————————————————
July 28, 2016
Grab the Tissues People, Time for the Democratic National Convention
DAY 4
I have never cried so much watching a political convention in my life!  My eyes have been puffy and red since Monday.  Gordon and I are glued to every single minute of this.  Getting to bed late, dragging ourselves to and fro as tired as heck.
I just want to go and hug lots of people and tell them that I am on their side.  🙂
Caught up in all the excitement and ordering my Hillary yard sign as I type this.  My neighborhood didn't exactly like my Obama sign and tampered with it quite a bit.  Pulling it up and stomping on it.  But the Obama sign survived and so have we.  (Even though some of our neighbors did rip up some of our plants and bushes in our yard as retaliation.) 
But we are tough, and we are strong. 
And we have done NOTHING WRONG!!
Just wait till these misogonists see that Hillary sign!  🙂
Julie
p.s.  I know I spelled misogon…. wrong, but too tired to do the Google.
————————————-
July 26, 2016
So Loving the DNC Convention
(But then again I am a political junkie.)
Do we not have the hottest first lady ever??
O.k., Jackie O. was up there.  But check out this Wonder Woman!
I do have her cookbook and we even make some of the recipes from it.  I like that she gardens.
You know, I am a Bernie fan.
  He is probably the least corrupt politician that we have ever had.  But realistically, Hillary has the nomination and we need to get behind her. 
I was at the beauty shop getting my perm (see below) when I was overhearing the conversations in the shop.  Everyone agreed that Donald Trump will destroy all civilization, but yet they couldn't get behind Hillary because she lies??
O.K.  Breathe Julie, breathe. 
I felt like I was in the Twilight Zone.
Seriously?  Are you kidding me??
You are confused as to who to vote for????
What alternate universe have I entered???
Just get out of here Julie, get away from the pig people.  RUN!!!!
————————————————
July 24, 2016
Julie and the Perm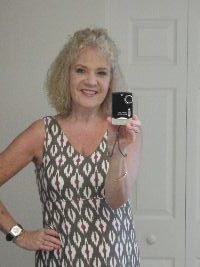 Me out at the Condo Today
I've been getting a perm since I was a teenager.  I have the thinnest, finest, straightest, hair on the planet.  Interesting though, I apparently have a ton of it, although you wouldn't know it from looking at me.  I've heard that from every hair stylist/beautician that I have ever gone to.  Lots of hair per square inch, more than usual.  BUT, it is the limpest hair imaginable.  That's why I get a perm. 
I have noticed over the past few years the prejudice towards me when I go into the beauty shop to get a perm.  Other customers complain of the smell of the chemicals.  Even though they are sitting in another chair getting their hair multi-colored with a strong smell of chemicals, I am the "smelly" one?  People entering the beauty shop to buy their hair products will also say some very opinionated comments about the smell of the perm that I am getting.  Usually I just ignore the comments and continue reading my book, but one day a man came into the beauty shop to get his hair "styled" and made a remark about the smell of my perm, that's when I let him have it.  I told him that if the chemicals in a beauty shop offend him, then he should stick to the barber shop to get his hair "styled" from someone with a pair of scissors and a shaver.  He didn't like that, but oh well.  Even my hair stylist has been trying to get me to quit perming my hair and just do color.  I told her that I can do color at home myself, but if you don't want to give me a perm anymore then I'm sure that I can find someone else around here that will.  (I tip her more than any one of her customers.  She would miss me!)
 So I actually considered looking around to find someone else.  I did call her to make an appointment for this perm and I asked her if she wanted to do it?  She said that she would and when I arrived to get my perm I was told by a couple of people sitting there that perm's are coming back.  I believe I said something like, "Really?  That's because everything comes back." 
So now I'm back in style, huh? 
I don't care if I'm in style, out of style, or back in style.  I like my style.  That's all that matters.  My style is to take a shower, wash my hair and let my hair dry naturally, and I love it when I have the curls.  Most of the time I don't wear make-up, I wear very comfortable 'attractive' clothing, not the slouchy stuff, and I hate to wear shoes, hence the name of the website.  Maybe someday I'll explain exactly why I hate shoes, but not today.
I hope that what you get from my website blog is to just be yourself and to hell with what anyone else thinks of you.  I don't live my life caring what some 'self-anointed' group of people think of me.  I live my life for me!  Everything I do, I do for me.
So until they come up with something else better, then I will continue to get my "smelly" perm.  🙂
Julie
NOTE:  Did you know that our hair is a big clue into our metabolism?  The straighter your hair the higher your metabolism.  The curlier your hair the lower your metabolism. 
Explains why super models all have straight hair. 
It also explains why the modeling industry is such an influence.  Girls and women tend to copy how the models look, so if the models all have straight hair (due to their metabolism), then everyone wants straight hair.  If they get perms to curl their hair (because they have no natural curls), then perms come back in style. 
Do you really want to revolve your style around the metabolism of a super-model?
No wonder I just do my own thing, it's just too hard to keep up with others.
———————————————-
July 21, 2016
As usual Real Time with Bill Maher nails it.  But Michael Moore did scare the hell out of me!
————————————————–
July 19, 2016
We Do Love Our Eggs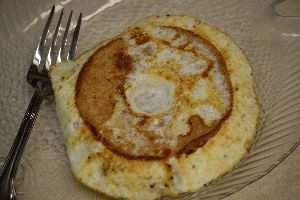 I pretty much eat the same thing every morning.  Half of a whole wheat bagel with some egg whites. 
In order to change things up for me, Gordon started making them a bit differently.
He places the bagel in the pan and then pours the egg whites all over it and cooks it that way.
Same thing, it just looks different.
I don't eat many egg yolks but a yolk would look great in the center, wouldn't it?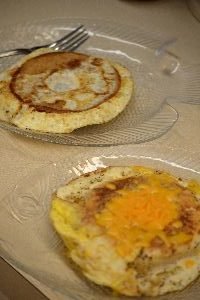 Gordon always puts lots of onions and bell peppers and cheese in his.  But I just like mine plain.
——————————–
Brodie's Eggs
Brodie has taken after Gordon and he can create and cook almost anything, but his eggs do look good!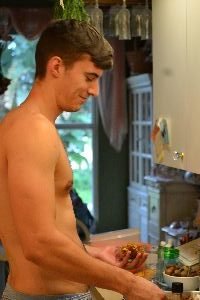 Just put a shirt on.
Mom
—————————————————
July 18, 2016
One of my Most Favorite French Movies
My Favorite Scene
She goes from curiosity to elation, to confusion, to disappointment, and into her assassin character.
Anne Parillaud as Nikita.  She is brilliant in this!
One of my most favorite movies.
Julie
Part Deux  🙂
—————————————————
July 17, 2016
My Funny Dogs
With so much bad and sad news all around the world, Nice and Turkey, I always turn to humor as my way of coping.  Humor is all around us, sometimes it takes a bit of work to spot it, but it's always there.  So I wanted to post something funny about my dogs because they always make me laugh.
Whenever I cook a chicken this is always how it goes.
Monk to my left, me and the chicken in the middle, and Sugar to my right.
Always waiting patiently like those ball kids at tennis matches.
Inevitably I always drop some chicken on the floor and the one that is closest will scoop it up and then retreat back into position.  This goes on until the chicken has been completely cut up and put away. 
And you know I always hold some back for these comedians.
Have a good day!
Julie
——————————————–
July 15, 2016
Flashback Friday Nice, France Edition
1976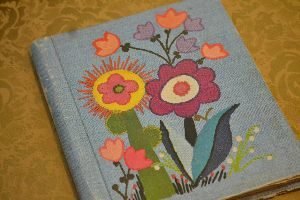 When I was 15 I went with a school trip to Nice and Paris France.  When I heard about the horrid terrorist attacks I remembered back to my trip to Nice and I dug out some of my old photos from my trip.  I wanted to share them with you.  It's just kind of my way of paying an homage to Nice and remembering back to a time when things were good and nice.
I have wonderful memories from this trip.  The scenery, the bus rides, the food, (actually I lost 12 pounds on this trip because of the food).  My funniest memory is of someone wanting the Levi blue jeans that I was wearing and offering me $75.00 for them.  I was wearing a raincoat at the time so I went into a phone booth and took them off and I made $75.00!  I did go around pantless for the rest of the day.  But hey, for a 15 year old in 1976, that is a lot of money!!! 
I was also pinched on the buttocks, a first for me, near the Arc de Triomphe, yet another first in France.  🙂
This is a Russian Orthodox Church located in Nice
I also have my famous landmarks, such as the Eiffel Tower and Notre Dame.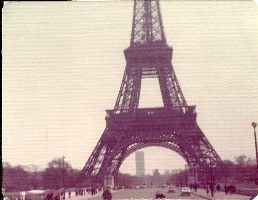 A Front and Back View of the Eiffel Tower
I took this one from the Notre Dame, you can see the Eiffel Tower in the distance.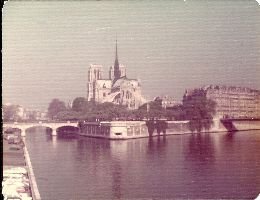 Notre Dame Cathedral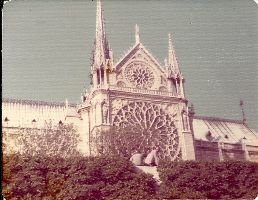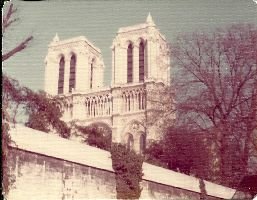 I didn't have the best camera but you can still see how beautiful everything was.
Here is a View of Paris
A Statue of Louis XIV at the Palace of Versaille
The Pont du Gard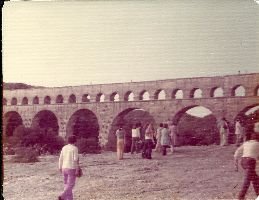 The Louvre
This is where I saw the Mona Lisa.  I wasted a roll of film taking the photos.  None turned out!  They had some film or screen that protected the painting from being photographed at the time. 
But I did see it in person.  How many people can say that?
La Place de I'Opera
This was a postcard that I bought while there.  I love the cars. 
It was a memorable trip.  I went to the French Riviera, saw Monaco and the little pink palace where Grace Kelly lived as Princess Grace of Monaco. 
I've been down the famous road where Grace Kelly and Cary Grant were on in Alfred Hitchcock's, To Catch a Thief.
  Also where Grace had the tragic car crash.
You know I can't imagine what it must be like to be mowed down by some killer in a truck and to die.  But I also can't imagine what it's like to survive such a thing and see the bodies of families all around me.  I feel for France at this time.  Also for the non-French that have been affected by this.
Julie
—————————————–
Summer's Here
Julie Age 2
Time to break out the backyard blow- up pools and lawn chairs.
—————————————————
July 14, 2016
Enniscrone, Ireland
My brother Johnny sent this to me.  This is the famous golf course in Enniscrone, Ireland that is frequented by professional golfers (Tiger Woods) and celebrities.  My brother manages the pro-shop and under his management the pro-shop has seen a profit for the first time ever.  He has met Hugh Grant, Kyle McLaughlin, and various American politicians which I cannot name.  My niece Kate has mastered this golf course and she is only 16.  Beautiful Ireland!
———————————————-
July 13, 2016
I Couldn't Resist Posting More Photos From  our Weekend at Silver Springs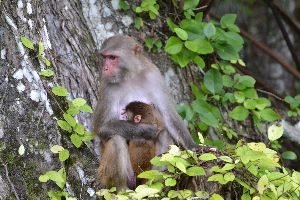 My Favorite Little Mom with Her Baby
Beautiful Silver Springs
I DO Love the Turtles
ttyl…
Julie
—————————————
July 12, 2016
More Photos From Our Trip to Silver Springs
Hey, Hey, We're the Monkeys
Yes, there are many monkey's at Silver Springs,  We came across a family of about 24 here. 
Even some babies among them.  It was very exciting!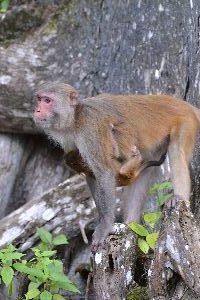 Those babies hang on for dear life and they scream a lot.  But it was cute.
Sadly, my lens focused on the cypress knees stump and not on the baby monkey's face. 
But you can still see how cute the baby is.
This guy is my favorite.  I Don't know why, but it is. 
I think it's the profile.
You know anyone can go to a zoo and see monkey's, but it is a whole different experience when you are in their habitat and you see them in the wild.  It's something that you never forget.
Have a great day!
Julie
————————————–
July 10, 2016
What a Great Weekend!
Me and Gordon Kayaking in Silver Springs
I TOOK THESE SHOTS!!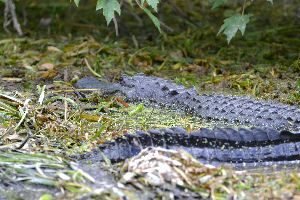 We must have seen around 30 alligator's today.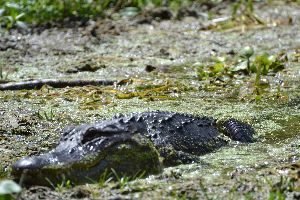 The biggest alligator I saw close up was about 6 feet long and came up beside my boat. 
I have no picture of it because I dropped my camera in my lap and paddled the hell out of there and left Gordon in the dust!
We had a blast!
I'll write more later on.  But this was such fun.
Around this time a dragon fly flew up to me and landed on my hand.  I was already so spooked from all the alligator's that I let out the loudest scream.  Scared Gordon to death!  He though an alligator got me.  🙂
Hope everyone had a great weekend!
Julie
————————————————-
July 9, 2016
In a Crafty Mood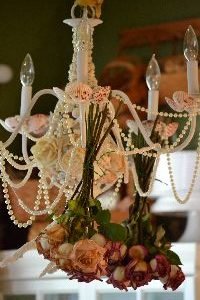 Drying my Anniversary Roses on my Sea Shell Chandelier
Gift for Veronica
This bottle was my son's that I found in the recycling bin and just KNEW that I could do something great with.
It was just too pretty to discard.  So I got the idea to put an old photo of Veronica on it.  It had a nice smooth oval to the bottle front, and back, that a photo would fit perfect on.  So I glued it on. It was easy really.  Just turn the bottle photo side down overnight to dry.
The flowers I got out of our backyard.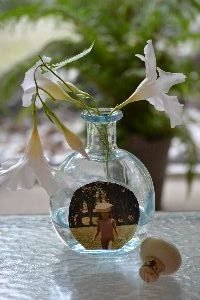 She Loved it!
I spent no money on it whatsoever. 
Those are the best gifts!
—————————
Hey, Hey, We're the Monkee's
Monkee and Sugar
Senior dogs are the best because they bring a calmness to your life that I think we all need in this time.
It breaks my heart that so many people get rid of their dogs when the get old.  We made a commitment to these dogs that we will keep until they are gone.  Then when it comes to adopting again, it will be senior dogs for us.
Now that I'm 55, a senior!  I wouldn't want someone discarding me because I'm old.
Have a very nice weekend,
Julie
—————————————-
July 8, 2016
What he said.
Julie
I used to have this bumper sticker on an old car of ours during the Bush years when we were living on a military base.  One day I was at the mini mart on base, I had just gotten in my car when this guy in a pickup truck pulled in back of me and blocked me in so that I couldn't leave.  He was reading my bumper sticker out loud with a look of shock and confusion on his face.  I decided that I could do one of 3 things.  I could either use my cell phone to call the base police and have them handle this.  I could walk back into the mini mart and get the security inside to handle this.  Or I could just sit here and balance my check book until the man's short attention span kicked in and he left. 
So that's what I did.
Talking to the man was never going to be an option.  If the bumper sticker confused him, then everything coming out of my mouth would confuse him as well.
It wasn't so bad.  I ended up balancing my check book, filing my nails, and I cleaned out my glove compartment.  🙂
——————————————–
July 6, 2016
Happy Birthday to the Cutest Little Wahini in Honolulu
Veronica
Julie and Veronica
(Looks like we switched chairs.)
We're in our backyard in Hawaii in front of our banana tree.  That tree produced the nicest bananas.
She was the sweetest little girl.
Me and Veronica at the Honolulu Zoo
Me, Gordon and Veronica
This was our Christmas card photo back in 1989.
Oh yeah, I forgot about this one.
Gordon is soooooooo going to kill me!
(Seriously, the secret to a long happy marriage is being goofy.  You just don't always want it captured on film.  Just sayin'.)
Happy Birthday Veronica
Love ya Ronnie!
———————————————-
Just Cannot Get Enough of that 4th.!
——————————————
July 5, 2016
Our Food From the 4th.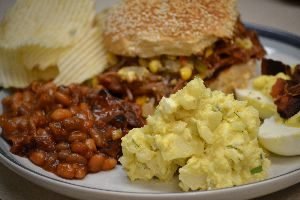 Gordon's Plate to the left, Julie's Plate to the Right
You know I always hear of comfort food being things like Twinkies, or Mac and Cheese, or ice cream, or some sort of heavy meal. 
But to me, THIS is comforting! 
The traditional pork BBQ Sandwiches that we have every 4th. of July, followed by my Southern Baked Beans, and of course there is Potato Salad and Deviled Eggs.  Here it is the 5th. and I am still comforted by the meal I ate last night.  The reason all this food is so comforting to me is because of all the memories that it evokes.    Of all the 4th,.'s that I celebrated with my family growing up, and even when I married and had children. 
  Tonight it will be leftovers but I am so looking forward to them!
This meal is worth putting on a pound or two.  🙂
Tastes always bring us back emotionally to those that we love and miss.
Food and Memories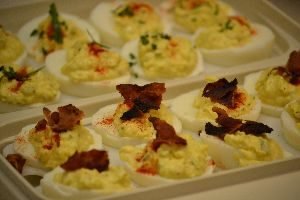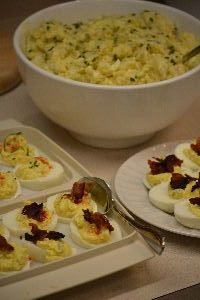 Bacon and Egg Deviled Eggs, Eggs with Chopped Chives and Paprika
Also my Red Potato Salad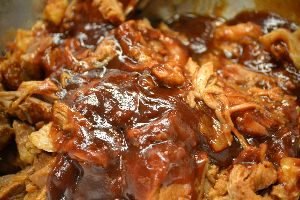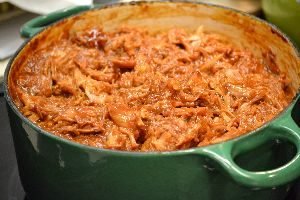 Gordon's BBQ
This is perfection! 
We topped our BBQ sandwiches off with our Grilled Corn Relish.
Gordon's Grilled Corn Relish
It was my idea for Gordon to grill some corn on the cob and turn it into relish.  He tried it and it was so good!
When we were buying our corn at the market the woman asked us why we were buying so much?  We told her that we were making corn relish.  She told us that she had never heard of it?  It seems that we have talked to several people that say the same thing.  I find that odd.  The woman at the market asked to see our recipe so we showed it to her.  She studied it for several minutes.  I told Gordon that she was memorizing our recipe.  🙂  Oh, well, we believe in sharing.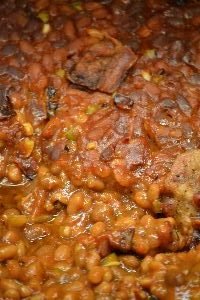 Julie's Southern Baked Beans
I made these in my 20's and took them to a Fellowship Dinner at my Grandmother's church.  I had so many people ask me for the recipe.  I kept trying to tell them that it was just your standard southern baked bean recipe but they kept insisting that it wasn't.  They kept asking me what peppers that I am using?  What onion?  I then remembered that I add Tabasco sauce to mine.  Maybe that is why they were different.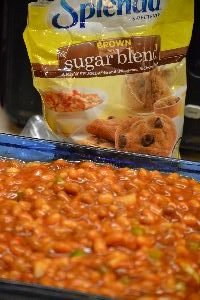 Georgia Vidalia Onion make it Sweet, Brown Sugar make it nice, and Molasses make's it Perfect!
Oh Yeah, and Don't Forget the Bacon
You know I really do think that I should win some award for this.  I don't know, like an Oscar or a Nobel Peace Prize? 
I mean seriously, they are so good!
Gordon called me from work to tell me that the beans tasted better the second day and how his fellow co-workers were loving them. 
So just any ol' award will do.  I just have one thing to say to humanity,
"Your Very Welcome."
But now that the day is over…….
It's time to Blog
And to have my most favorite ice cream,
AMERICONE DREAM
(It takes me a month to eat one pint.)
with my bestest friends,
Ben and Jerry's.
Happy 4th. Weekend!
Julie
p.s.  See the large Amethyst rock above?  Coincidentally, it was my birthday, February 13, when I had walked around the house  and spotted it just lying there in our yard.  My birth stone is amethyst. 
A gift from the universe!
Thank you!
—————————————-
Happy 4th. of July!
We've been very busy so I haven't had time to post on my blog.  But here is what we are up to.
Hope everyone has a very happy day!
We've been canning for the past week with 4 different versions of corn relish.
Grilled Corn Relish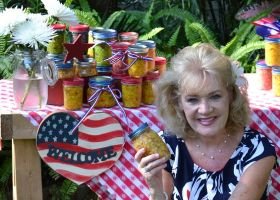 We also made a traditional corn relish, a red/white and purple corn relish, and a peaches and cream corn relish.
Which by the way it great eaten on a hot dog or bratz.  (Is that how you spell it?)
Great also eaten with some sauteed onions, and bell peppers.
(We tend to douse our food.  Only at our house do you eat a hot dog with a fork.)
Today starts a big day of Boston butt, baked beans, potato salad, and deviled eggs.
  (With me making 3 of the 4 above.)
Last night we had a great Pre-4th. dinner.  It's been nice having a 3 day weekend, hasn't it?
My only fear is that I think we are getting low on chips!!!
Noooooooooooooooooo……..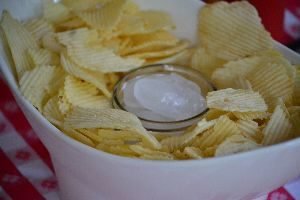 Check out how smart Gordon is:
I wanted to create a pedestal of sorts for my onion dip inside the same bowl as the chips.  So Gordon got the idea to place a jar inside the bowl sitting in the middle, then adding ice to the jar in order to keep the dip cool outside in the heat.  Only thing missing was a coozy to wrap around the jar to prevent it sweating and getting the chips wet.
Genius!
—————————————
June 29, 2016
Black and White Wednesday
Sometimes I like non-colored photos, shadows can be very impressive.
——————————————–
June 29, 2016
Balancing Act?
I've posted a photo in the past of my balancing act that I do when I wash and stack dishes. 
Photo Below
Can I Stack Dishes, or What?
And although you may find it quite boring, to me this is insightful.  I have been able to balance items stacked very high my entire life.  It's just in me to stack things upwards.  I just wonder why?  Why do I do it?  Why am I so good at it?  And the thing is, nothing ever falls.
Sometimes I think I was a Circus Performer with a balancing act in a past life.
It would explain a lot.  🙂
Julie
p.s.  Oh, and my precious tadpoles are back. 
Every year the frogs lay their eggs in our fountain and they hatch into the cutest little tadpoles.
  I greet this yearly event with dread, as well as happy anticipation.  Dread because I will not have a lovely fountain for months until they are all brought into the world as frogs, and happy because I am helping to protect our environment.  Frogs are important to our environment.
  WE NEED THEM!
So, I feed them with our leftover lettuce so that they don't cannibalize each other. 
Sometimes a yucky fountain that helps frogs is more important than a lovely one that makes me smile.  I have lots of months in the year to make it pretty, but for now it's theirs. 
Oh, one more thing that I've been thinking about.  Frogs eat mosquitoes, so if a frog eats a mosquito with the zika virus, and then we eat the frog legs, which a lot of people do, then can you get zika that way as well?
Just wondering??
—————————————
June 28, 2016
Corn Relish Intoxication
Not as young as I used to be but whatever it takes to push the wares…….
After a busy weekend of making 3 batches of corn relish!!, One Golden Corn Relish, One Old Glory Corn Relish, (I made that name up in honor of my red, white and purple corn relish.)  Well, close enough.
AND, Gordon's Peaches and Cream Corn Relish.
Next up?  Grilled Corn Relish! 
Then hot pepper relish!
Yep!
We're pretty much making everyone's birthday, July 4th., Thanksgiving, Christmas, New Year's, and Easter Gifts.
Hope everyone likes corn relish!  🙂
Julie
Oh, and I hear it's great for Valentine's Day too!
(O.k., I just made that up.  But I'll bet it is.)
—————————————-
June 25, 2016
Guess What We're Doing This Weekend?
Here's Your Hint!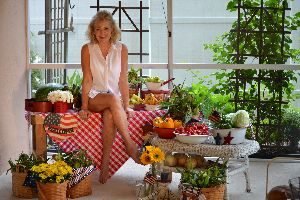 Getting Ready for:
Corn on the 4th. of July!!
We are canning Corn Relish.
(Question.  Why is it called canning when it's put into jars?  Shouldn't it be called jarring?)
Anyway, it was either going to be that or Corn in the USA!
Happy Weekend,
Julie
————————————————–
June 24, 2016
My Condolences
LONDON (The Borowitz Report)—Across the United Kingdom on Friday, Britons mourned their long-cherished right to claim that Americans were significantly dumber than them.
Luxuriating in their superiority over Americans' intellect has long been a favorite pastime in Britain, surpassing in popularity such games as cricket, darts, and snooker.
But according to Alistair Dorrinson, a pub owner in North London, British voters have done irreparable damage to the "most enjoyable sport this nation has ever known, namely, treating Americans like idiots."
"When our countrymen cast their votes yesterday, they didn't realize they were destroying the most precious leisure activity this nation has ever known," he said. "Wankers."
In the face of this startling display of national idiocy, Dorrinson still mustered some of the resilience for which the British people are known. "This is a dark day," he said. "But I hold out hope that, come November, Americans could become dumber than us once more."
(Unfortunately, we just might be.  But NOT today!)
Julie
But Number 10 Downing Street will no longer be on speed dial at the White House.
——————————————-
June 23, 2016
Thursday Night Sexy
I think one of the sexiest video's ever.  Tawney Kitain, her real name is Julie by the way, is perfect in this.  Oh to be so limber…..  and to have all that hair!  I really miss big hair.

Julie
—————————————
June 23, 2016
I Want To Sleep Out Here
This is my most perfect spot.  Outside on the lanai. The nightlights all aglow.  The ceiling fans churning up a storm.  The perfect Florida night time temperature.  I won't even need a blanket. 
It's PERFECT!!
——————————————————
June 22, 2016
31 Years of Marriage Today
Don't know what I would do without him.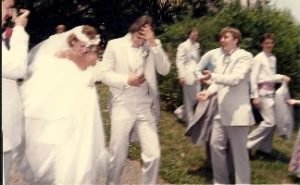 Happy Anniversary Gordon!
Julie
——————————————–
UNDER CONSTRUCTION
Father's Day for Gordon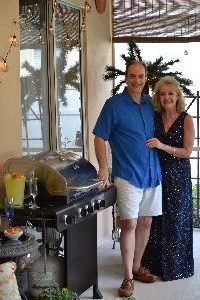 This is becoming our most favorite spot on our property, Our Lanai.
Limoncello and Limon Rum Cocktails
with Edible Flowers
Our Apps were Delicious!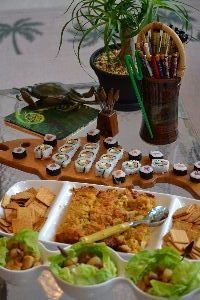 Salmon Sushi with Wasabi
Grilled Scallops
Artichoke Casserole with Wheat Thin Crackers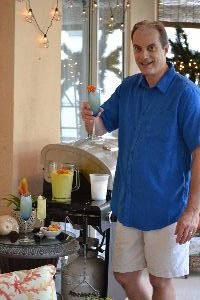 Gordon enjoying his cocktail, and a gift from me, to Gordon.
A Beautiful Succulent Hive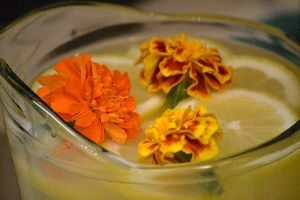 Edible Flowers
My cocktail of Limoncello, Limon Rum, Lemons, Edible Flowers, Lemon/Lime Sparkling Water, and Lemon Water
Starry, Starry, Night Dress
(p.s.  The story behind all the orange.  This is my grandmother's vintage wrought iron patio set that I inherited from her after she died.  My grandmother's favorite color was orange.  So when it came time to buying new cushions, I bought the orange color for her because I knew she would approve.  She loved nothing more than sitting outside fanning herself on this furniture.  So if possible, she still is.)  🙂

To me the orange represents coral from the sea.
We even had a Fish Hawk (Osprey) to Drop By
Veronica and Gordon
Grilled Salmon with a Pesto Sauce
Also Asparagus
The fish thingy is another Father's Day gift from me.
Brodie and Veronica
———————————————-
June 18, 2016
Father's Day Weekend
I stopped off at Home Depot on my way home from being out at the condo for a few days, and bought some real goodies for us, I MEAN GORDON, of course, for Father's Day.
My car is always full of something.  Rarely do I just drive around with an empty car.
We will be having a great Father's Day!
But first I wanted to show you a photo of my "original father".  At least that was how Gordon referred to him when he first saw the photo.  "Is that your original father?"  🙂
Julie with Charlie
About all that I can do is to hold up a few photos to my children and tell them his name and that this is where they get their DNA from.  By today's standards he would be a 'dead beat dad'.  I don't even know when his birthday is.  I could find out but I don't really care to.  But I wouldn't be here if it weren't for him.

Oh, and he died when I was 21 from a widow maker heart attack.  He was 43.
Julie
But Happy Father's Day to those good ones!  I envy you!
—————————————-
June 17, 2016
Flashback Friday
1967
Mary Keith and Julie
Silver Springs Edition
The Casserole From the Black Lagoon
The Chicken From the Black Lagoon Casserole
(Hey, I can turn any food into Halloween)
I wanted the black olives to look like eyes.  And this casserole is loaded with slivered almonds. 
When you look at it you may see what you think is rice, but it isn't.  It is a very "crunchy" casserole.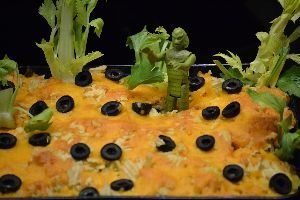 We are gearing up for the best field trip ever next month to Silver Springs, Florida where the movie The Creature from the Black Lagoon was filmed in 1954.
Julie Adams in The Creature From the Black Lagoon
I love this movie!
It was filmed in Silver Springs, Florida
That is me with my mother, right, and my friend Lynn, left.
Notice all the Glass Bottom Boats?
This is going to be a fun field trip.  And yes, that is me riding a turtle. 
Probably illegal now, but not then.
Can't wait for that glass bottom boat ride!
Julie
————————————————–
June 16, 2016
Well, my cyber-stalker Paul is at it again.  If you scroll down my blog you will see everything a bit distorted and aligned to the left of the page.  I keep trying to center it but it won't let me.  That is the "bug" that has been implanted. 
I have been blocking his "bots" left and right now for awhile, but some of the damage that he does, he planted a while ago. 
I downloaded a new security system that I will not give you any further info on at this time.
I think that my website is to Paul what guns are to men with small penis's. 
I'm not going to fix the damage that he has done.  It's just further evidence of his sabotage and stalking that we will use against him later on.
Julie
—————————————-
June 15, 2016
The Saddest week
Body of Boy Snatched by Gator Found
Hasn't this just been the saddest week for Florida? 
I feel so sad for that family of the 2 year old that was snatched by that alligator at a Disney resort. 
We've stayed at most every Disney resort over my lifetime and we always see an alligator either in one of the many ponds or lakes in and around the area, or just driving down I-4 on your way to the resorts and theme parks in Orlando.  When our friends from New Zealand came to visit many years ago we stayed at one of the resorts and right in the front was an alligator just gliding along in the water.  Trish and Bob were just amazed to see something so dangerous, so close to the resort.  We see them around any body of water here in Florida.  Many times they end up in people's swimming pools.  It's not unusual to see them sunning themselves on the side of the road near a pond or lake.  I've seen an alligator come charging up through the water to grab a bird that was just floating on top of the water, only to drag it under.
Most people seem surprised that the boy's body was intact when they found him.  Alligator's aren't interested in eating at the time of the kill.  They want to drown the victim first, then they place them into an underwater log or crevice for a week or two until they eat it. 
I don't mean to sound morbid about this, I'm just trying to explain how an alligator hunts.
                                                                                                                                                                                                                               They are after all, mini dinosaurs with powerful jaws that you cannot pry open.  If a shark were to bite you, you can poke them in the eyes or gills and they will release you, but not an alligator.  Those jaws are clamped shut and they are too powerful to try and open.  There has been the rare occasion that an alligator has loosened it's grip and someone was able to get away.
(NOTE:  Florida has the most shark attacks of anywhere in the world.  It's only because Florida has the longest stretches of beach.)
Many times on the news you hear of people getting killed by alligator's simply for going about their daily lives.  A few years ago a woman just doing some landscaping in her yard and had her back to the pond, was snatched by an alligator and dragged into the water.  Two men did try and save her but they were no match for it. 
This is a reality here in Florida.  I think that our tourist industry should do more to warn visitors to our state that we do have dangerous threats here.  I also think that Disney should be held responsible for not warning tourists to the dangers of these predators.  You don't create a beach area, set up many chairs on the beach area, and just place a few signs saying, "No Swimming."
June 2016
The Calendar at the Condo
I bought this calendar for the condo in January because it depicts our wildlife here in Florida. 
Alligators are a reality here.  This is their home too.  Alligators also are travelers and migrate from one 'body of water' to another 'body of water'.  Just because your backyard pond doesn't have an alligator in it today doesn't mean that there won't be one in there tomorrow. 
You don't go swimming in any lake or pond in Florida because you never know.  You also stay away from the shoreline as well.  They have been known to charge out of the water to grab their prey.

Julie
Oh, and P.S.  I'm tired of reading about how people are dying on those amusement park rides and those responsible will then blame the victim because during the autopsy it is discovered that there was a "pre-existing" condition that lay dormant, so therefore, nothing is ever done.  Well, RIDES SHOULDN'T BRING OUT "PRE-EXISTING" CONDITIONS THAT LAY DORMANT!!!
So yes, these parks ARE responsible!!
——————————————-
June 14, 2016
We're too Hot Headed to Own Guns
You know, I really don't want to get to deeply into this because anyone that has read my blogs over the last 5 years know that I am very anti-gun and I say that with great pride.  The second amendment was about owning a musket to protect yourself and your family from wild animals, horse thieves, warring Indian tribes, drifters…….
But now we live in a time where we have a police force, a military, security guards, cameras, alarms……….
What ever happened to the 'Land of the free and the home of the brave'?  If we are all carrying guns out of fear then I hardly call that "brave". 
During my grandparents generation if someone bumped into you no one did anything about it.  It was no big deal.  It didn't even faze them.  They hardly noticed it.  During my parents generation if someone bumped into them they may not have liked it, but they didn't say or do anything about it.  Then my generation came along.  Now if someone bumps into someone of my generation we might turn around and say something like, "Hey, watch it"!  But now with this new generation if someone just looks at them badly they whip out their gun and shoot them!
Hot headed people are dangerous and have no business owning a dangerous weapon.
Julie
998 mass shootings since Sandy Hook in New Town, 2 of them were carried out by Muslims.  The rest by men.
 Huh.

————————————————
June 13, 2016
Donor's Giving to Orlando Victim's Fund at Record Rate
You know, I do think that is so very generous of people to want to help the families of the victims.  Whenever these mass shooting occur so many people always rush to help.  That is so very commendable.
But people are shot and killed every day in America and no one rushes to help those families. 
So why not try and put those unknown families that aren't featured on t.v. in your thoughts and generosity?  I guarantee that there are plenty of shootings in your own hometowns that don't garner very much attention.  I think that those families can use some help as well.
Julie
p.s.  Just a pet peeve of mine but quit telling people that you will pray for them.  That totally exonerates you personally of doing any action whatsoever.  Instead why not actually do something?
Write or call your congressman or senator.  Fed up with living in the wild west?  Then just do it!
————————————–
Sunday, June 12, 2016
We FINALLY got around to making my Beneath The 12 Mile Reef Cocktail video from last July, 2015.
When we say that we will be debuting a video "soon", that generally means one or two years later.
But here it is and all I can say is that my calling is in print, not moving pictures.
Be Kind,
Julie
If you would like to see more check out my blog posting.
—————————————————
June 12, 2016
Sad Orlando Weekend
RIP
Christina Grimmie
First we all got the news of Christina Grimmie being gunned down after her concert in Orlando, then I wake up to the news of a nightclub shooting killing 20 and hospitalizing 42 in Orlando. 
I did not even know Christina Grimmie, I had never even heard of her, but her death is still very tragic, and when I heard of it the first thing that I thought of is, "Why did she even come to Florida to begin with?"
Our number one cause of death here is by gunshot.
Julie
Until people start to boycott our state because of our gun laws, then things will never get better.
NOTE:  50 DEAD!! 
Now that more news is coming in about the horrible mass shooting in Orlando, we're learning more about the gunman.  He lived in Port St. Lucie, so did we when we first got married.  And he worked in Fort Pierce, so did I.
Gordon gives blood all the time and wants to contribute somewhere today to help. 
I have a rare blood type that no one is asking blood for.  My mother's is even more rare than mine. 
Hope the news doesn't get any worse!
The mood of the day is so so depressing.  But if no one did anything after all those little children being massacred in New Town, then why give a damn now?
—————————————-
June 11, 2016
My most favorite voice in the world, singing my most favorite song in the world, in my most favorite country in the world.

Go Charice!
—————————————
June 10, 2016
Flashback Friday Wedding Edition
Our 31st. Wedding Anniversary will be coming up soon.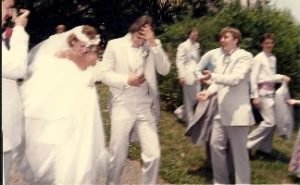 Gordon and I were going through our wedding photos from June 22, 1985 when we came across this one. 
It just gives us chills to view it.  The reason that I say that is because our stalker/hacker, Paul is in the background.  He is the guy on the far right carrying his jacket in his hand.  He has been our hacker/stalker for the past 2 decades.  I even started a blog post about him.
I think that the photo above is indicative of what we go through all the time having him to stalk us online, sabotage our website, plant malware and spyware into our website, hack into our cell phones, listen to our conversations,  and our get into our accounts online, ect., ect., ect…….
The photo represents how we live.  Gordon and I go through life doing what we do, while Paul is always lurking in the background.  The reason I posted it was to illustrate that fact.
I uploaded some new wedding photos onto our:
Even though we did the 'Al Fresco Dining' two years ago, I still update it for the website purpose.
Our hope is that Paul will leave us alone and to on with his life.  We believe his stalking goes back to the early 90's.  We are sick and tired of all the stalking and sabotage.  Which is why we are writing about him as a way of exposing him.
Julie
—————————————–
June 9, 2016
My Glorioso is Glorious!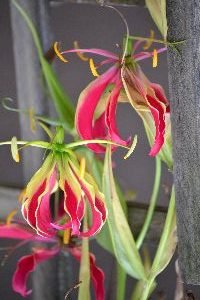 All this rain from Colin is turning everything so pretty.
This orchid blooms downward.  We have them in our front and backyard.  They are climbers and they especially love to wrap themselves around bushes.  One of my most favorite flowers.
Rainy Thursday!
Julie
———————————–
June 7, 2016
Tropical Depression Colin is Here!
I was out at the condo all last week enjoying days like this………..
Then they turned into THIS!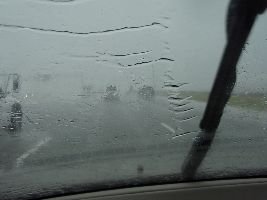 On my way home on the Gandy Bridge
Not to worry, I just point and shoot with my little hand held camera.  My eyes were on the road the whole time.
Can you see the white caps?
Oooo, a boat!
But all this rain makes me want to do this.
Nappin' with my Monkee
We always seem to have a wet June so I just make the best of it.  And get plenty of sleep.
Have a great week!
Julie
P.S.  This morning the dogs didn't want to go outside.
Poor little things.
The good news is that our pump is working!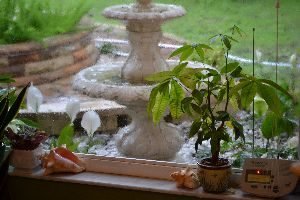 This is what kept us up all night long.
Our NOAA Weather Radio!
(See it to the right?)
It alerts us to all the bad weather coming our way.
All, Night, Long…..
ALL, NIGHT, LONG…..
———————————————–
June 3, 2016
Stuffed Vidalia Onions
(This recipe will eventually be on our Outdoor Easter blog.)
With Father's Day approaching I had a suggestion for something to cook for your special man.  Or in  my case, have him cook it.  🙂
This was a side dish that Gordon made for us for our Easter dinner.  I came across an old recipe in an ancient cookbook and I really wanted to try it.  Except I didn't like some of the ingredients that were featured in the recipe.  So Gordon and I rewrote the recipe to our tastes and here it is.
If we were living in Hawaii then these Vidalia onions would be Maui onions.  But seeing as how we are in Florida, Vidalia it is!  But what you want is a sweet onion.  Vidalia onions are grown in Vidalia, Georgia.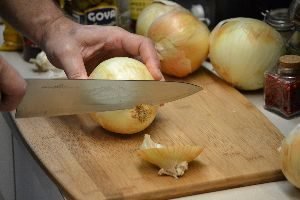 You want to cut off the end of the onion so that it will sit flat.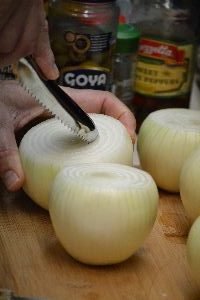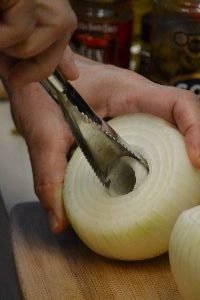 You next want to chop off the top of the onion and remove the outer skin.
Then just start twisting this tool around inside the onion to make a hole.  You want to make it deep enough, and wide enough for your filling.
The "Tool" Gordon bought at the Asian store.  I don't know the name of it right now.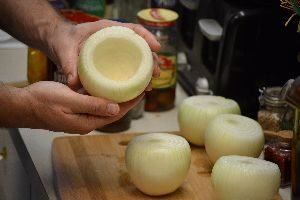 You want the onions to look like the photo at top, right. 
We never throw food away, the onion that was removed, photo top, left, will go into omelets, salads, etc.
The Ingredients For Making the Stuffed Onions
My Favorite Ingredient?
Bacon!  Bacon!  Bacon!!
A nice thick bacon is perfect here.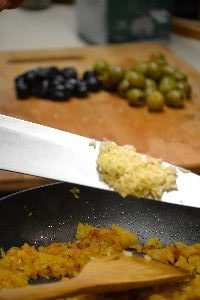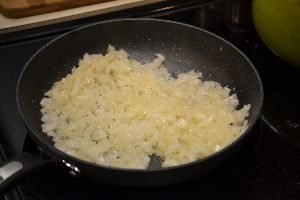 Sauteeing some of our Vidalia Onions, Garlic, and Turmeric
Look at these Beautiful Onions!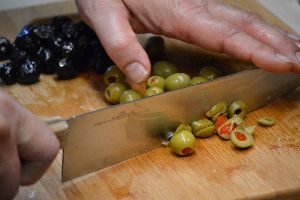 Black and Green Olives
Onions, Olives, and a Reflection of Gordon and Julie
Gordon Adding the Spices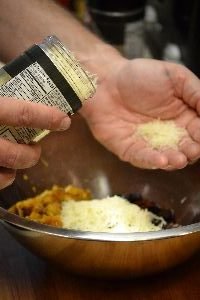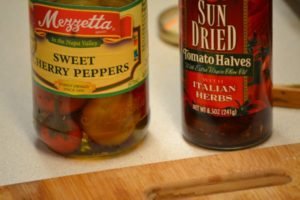 Next comes the Parmesan cheese, and chopped sweet cherry peppers, along with some chopped sun dried tomatoes.
Ready to Add the Bacon
Gordon Adding the Bread Crumbs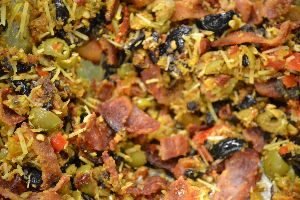 This Filling is Perfection
Gordon got the idea to place the onions into foil and then put them into the holes of a muffin pan.
Before baking place a pat of butter into each onion.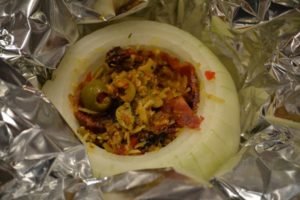 Then fill to the top with your delicious mixture.
Bake in the oven for about 25 minutes in a 350F oven.
Our Stoic Brian
Brian loved the onions so much that he wanted the recipe to cook for his fire fighter co-workers.
  Gordon even gave him the tool to carve out the onions. 
We do love our Brian,
Julie
————————————————-
June 2, 2016
The Psychology of Bullies
I want to thank Joe Keen… of Tennessee for teaching me the psychology of Bullies. 
You see, my family moved to Sevierville, Tennessee the summer before I entered the 9th. grade in high school.  So that would be 1975-76?  My step-father was one of the new doctor's in town.  We always had to live in these small towns.  My step-father liked being a big fish in a small pond.  So he and his medical partner, Charlie, set up their practice.  Working in his office was one of my first working experiences.  He made sure that everyone that worked in the office treated me as if I were a nobody.  In other words, he gave them the green light to treat me very badly.  And some of them did.  It was something that I discovered when I worked for him in either the Tennessee office, or the Rockingham, North Carolina office.  I was assigned the worst jobs possible.  The ones that they never wanted to do.  I was the garbage girl, the exam room cleaner girl, the sterilizing of instruments girl, the plant watering fish emulsion girl, and filing girl, and the typing of envelopes girl.  I didn't expect special treatment, but I didn't expect to be treated worse than anyone else either.  I also didn't expect the terrible attitude towards me.  My worst employer was an office manager of my father whose name was Sheryl.  (I think that's how she spelled it.)  She absolutely adored bossing me around and would have me stay in an enclosed office room for hours typing envelopes with hardly any light in the room.  The nurse under her, Barbara, would feel so sorry for me and come and try and get me to take a break.  I never would.  I knew the wrath of my step-father too much if I dared to take a break.  Same with his office manager Sheryl.  I knew that if I did take a break I would be punished for 'slacking off' and expecting 'to be treated better than everyone else.'  So therefor I never did take any breaks.

My step-father was a bully.  So was his office manager Sheryl.  But why am I thanking Joe Keen.. of Tennessee for teaching me the psychology of Bullies?  Because he did!  You see from my first day of high school in 9th. grade at Sevier County High School, Joe was always there to bully me and let me know every single day that I was different and that I deserved to be bullied.  His last name was Keen.., mine was Lancaster, so therefore we were always in the same homeroom for 3 years.  Usually sitting right next to each other.  Joe would usually hurl some sort of insult my way most every single morning.  But I noticed that on the days his "entourage" was absent, that he wouldn't.  I would wait for the insult/put down to come, only to discover that he was actually nice that day.  What the?  Why didn't he just put me down?  Why was he actually nice?  Could it be that Joe is a chicken?  He will only attack me when he has his bully squad to back him up?  Yep!  That's it! 
You see, bullies really are chicken's.  Joe wouldn't dare confront me without his backup!  Funny thing is that I never had any backup.  I always had to face down the bullies on my own.  It never occurred to me to get some sort of help.  I took care of myself.  It never dawned on me to gather up some sort of group to attack someone I had a problem with.  I just confronted them on my own. 
When Joe was elected to County Clerk in the early 90's I told our old friends in the town that it would be a disaster.  They looked at me very strangely, as if wondering, why I would say such a thing?  The reason I said it was because I knew the REAL JOE KEEN…  Joe showed me his true colors back in high school.  Bullies always show their real selves to the victims that they abuse.  Their VICTIMS, always know the real person.  Most others never do.  So years later when Joe had to resign his office as County Clerk due to his "mishandling of the money of the people of Sevierville", in disgrace, I wasn't the least bit surprised.  Last I did hear, he never did any jail time.  He was after all, one of the 'good ol' boys' of the town so therefore they will never punish him.  They tend to protect each other.  But they will bring him down if he abuses one of them.  Of which he did.  I won't go into that, but he did screw over a former friend that was also a judge in a joint venture that the two had, then oddly enough, a surprise audit caught Joe with his hands in the till.   Joe had to resign in disgrace and moved to Knoxville, Tennessee to become a realtor.  So Joe was run out of town.  But the seeds of Joe were already planted as far back as 1976.  Probably even further back.  But, I only knew him at that time.  I knew the real Joe.  Joe taught me as far back as 1976 that bullies are nothing more than cowards.  If Joe has no respect for people, then why would he respect their money that he was in charge of as County Clerk?

They are nothing without their backup. 
Whereas I was brave, and honest, and strong.
 Don't fear the bullies.  Because the bullies are really afraid of you!
That is my message to you.  I don't want anyone looking at my website and thinking that I have had some perfect life.  I haven't.  I've endured a lot of bullying and suffering in my lifetime and I want you to know that.  The greatest people that I have known were my grandparents and great-grandparents, and my husband and children.  No one else matters to me.  Well, there are also a few good friends that are in the mix as well.  But I was not raised by a good father, or a good step-father, or a good mother.  Good parents are very foreign to me.  But you can be like me and choose a good partner in life.  That is the best decision that I ever made.
Your birth doesn't have to determine your future. 

(Didn't Cinderella teach us that?)
Julie
p.s.  Maybe now some of you can understand the psychology of my Cinderella Christmas blogs.  🙂
———————————————–
June 1, 2016

Painting, Painting and more Painting…..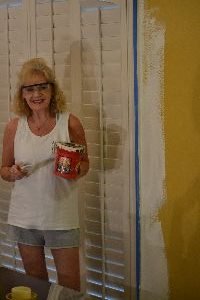 This is what we are doing for the next 3 weekends!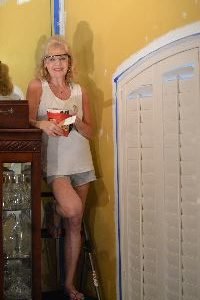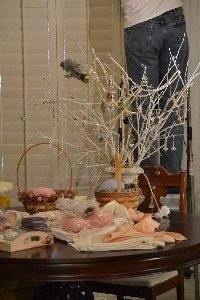 Um, yes, that is Christmas and Easter in the dining room on May 30, 2016.
Your point being??
Gordon Doing the Rolling
Gordon did the taping, I did the cutting, and Gordon did the rolling.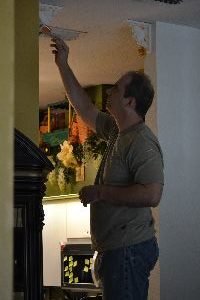 Oh, and we will still have SOME yellow walls, and some white and some green and some red….
Painting and Pizza
Our house is so trashed!
But it will be an improvement when it's all done.

Have a  nice week!
Julie
———————————————————–
May 30. 2016
Happy Wet and Soggy Memorial Day!
We had such a bad storm that we lost power for hours!  I know the whole neighborhood was upset about it, but we just make the best of it.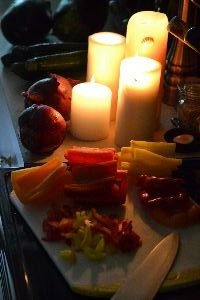 Chopped Veggies by Candlelight
But then the power came back on.
Best Shrimp you will Ever Eat!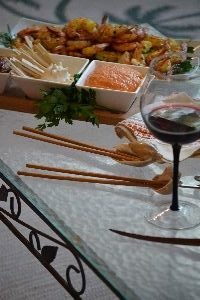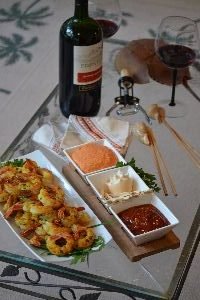 Apps on the Lanai
Memorial Day Cheers!
(Wine got my through the Bush years, I'm sure it will get my through the Trump years.)
Wine and Shrimp, that is.
Julie
—————————————————
May 28 -30, 2016
Memorial Day Weekend
What will you be doing?
We have an 80% chance of rain today from Tropical Depression Bonnie.
So our big weekend will be………..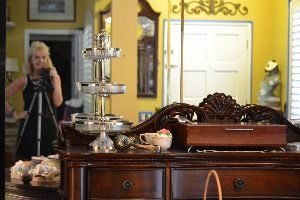 NO MORE YELLOW WALLS!
Painting, Painting, and more Painting
——————————————————-
Oh, and guess what?
Julie's Got a Tripod
If I could just get it set up correctly.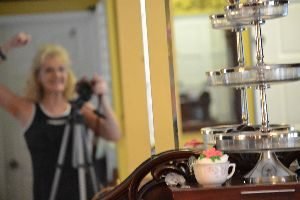 What is this thing here?
Oh, never mind, got it!  Victory is mine!!

Um, Nope.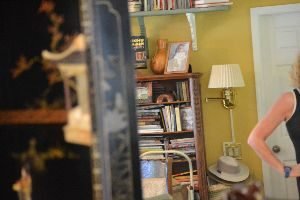 O.K.  Well, that's worse!
(Oooo, check out that 'well toned arm'?)  🙂
Here comes my hero to help me.
Thank you, but it doesn't look much better.
And, what are you doing with your hands?
I'm not dangling over a cliff, you know?  I don't think I need steadying. 
Have a good weekend!
Julie
——————————————————–
May 27, 2016
Happy Aloha Friday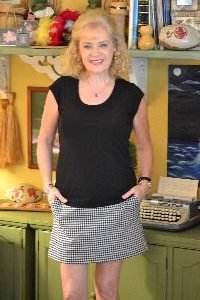 (For those in the know.)
Aloha,
Julie
———————————————-
May 23, 2016
So Long Charlie….
Have you ever heard that saying?  So Long Charlie?  I did.  When I was a little girl I heard it all the time when people that were visiting us would leave.  They would say, "So long Charlie."  They were of my grandparents generation. 
That saying originated from the jockey that rode Sea Biscuit in the race with War Admiral in 1938.  The jockey's name was George Woolf.  He had replaced Red Pollard, a Canadian who came to America with his uncle to find work, only to be abandoned at a race track by this uncle.  Red was injured and couldn't ride Sea Biscuit.  But when Red was young and abandoned at the race track he had to find work so he tried to get hired on as a jockey.  I won't go into the long story but it is such an inspirational one. 
What I love about the story is that every single one of them are underdogs.  They were all damaged.  Even Sea Biscuit.  He was abused in his youth, and suffered terribly.  Sea Biscuit's owner that acquired him later on had lost his son to a car accident, and his wife through divorce, and was a very sad man.  He did remarry a much younger woman eventually.  Sea Biscuit's trainer was a homeless man.  And Sea Biscuit's jockey was an abandoned boy at the race track.  Yet put them all together and they were winners!
This is the race between Sea Biscuit and War Admiral.
Right when Sea Biscuit was about to take off running, George turned to the other jockey Charlie and said, "So Long Charlie."
Sea Biscuit was a little horse that could run fast.  I have a theory on Sea Biscuit that no one will want to believe.  They say that Sea Biscuit was this competitive horse that when another horse was beside him, he would take off running in order to win. 
Well, my theory is that Sea Biscuit was like me.  I too took off running usually when I was being bullied at school.  I ran to get away.  I think that Sea Biscuit does to, he didn't like a lot of those horses.  There was only one that he could tolerate being around.  You see I too could outrun the strongest and the fastest and I had flat feet to boot!  So how does a flat footed girl outrun the athletes at school? 
It's in our head and our heart to get away, competition has nothing to do with it.  🙂
I think we here in America need a Sea Biscuit right now.  I know that I sure do!
Julie
Oh, and the final race, just cause.
Just to Clarify:  Without trying to play on words, I was not running AWAY from the bullies, I was running FROM them.  I was not being chased.  I just knew that I had to keep ahead of everyone else in order to avoid the horrible name calling and verbal abuse that would always come from them.  I think that's what Sea Biscuit does also.
FYI:  When I was young I named one of our mutt's Flea Biscuit.  His name would always get a laugh from the older generation.
——————————————–
May 22, 2016
(I've been wanting to write about this for year's.  Now's the day.)
(Raleigh, N.C.)
The HGTV Dream Home
A Past HGTV Dream Home, Merrit Island, Florida
A very popular t.v. channel here in America and Canada, is HGTV, Home and Garden t.v.. 
The channel features many reality t.v. shows of home renovations done by either pro's or amateur's, of beautiful 'before and after's, and all the struggles and mishaps along the way, leading up to the unveiling of something magnificent, yet always over budget.  That's all they talk about.  "What about the budget?  We're over budget.  I'm worried about the budget.  What does this do to our budget?"
Newsflash:  A budget is just a guide.  Rarely does anyone not go over the budget.  Our new roof back in December was originally appraised for between $11,000 – 12,000.  Guess how much it ended up being?  $16,500.00.  Yeah, always expect to pay more.
Oh and never is it ever UNDER budget.
I've heard that word, budget, so many times on these t.v. shows that I refuse to use that word ever again.  I've replaced it with the word, cost. 🙂
—————————————
 I am starting to get a bit tired of all the reality show "manufactured drama" on these homes being renovated and flipped. 
——————————————
I am still a fan of Nicole Curtis and I do watch her show because she teaches you something.  I learn when I watch her, the other shows are just designed to entertain.  Although Nicole is no longer on HGTV, she is now on the DIY Channel.  Although I'm sure that Nicole does watch what she spends on her renovations, she usually doesn't talk about it because she is more concerned with restoring the home "to its former glory". She is more concerned with preserving America and not demolishing it to make way for a bunch of 'cookie cutter' apartment buildings. 
Nicole Curtis, Rehab Addict
I did hear her say that on her "Dollar House" renovation that she basically broke even.  Guess she made about a "Dollar."  But that's what I love about her, she isn't greedy, her heart and soul are in it.
—————————-
Danielle Nicholas Bryk
Danielle Nicholas Bryk Website
 I also miss Danielle Nicholas Bryk's show, A Bryk at a Time.  You also learned from her and even though her style isn't mine, I always enjoyed watching her design.   She really is talented and creative.  You can tell that she is a very hard worker as well as a skilled one.  She now appears on some local Canadian shows but I do miss her having a regular show on HGTV.  I do think that occasionally they air an old episode of hers, usually early in the morning. 
—————————————-
Well, as usual I am rambling on about things other than I had intentionally started writing, as in the HGTV Dream Home. 
What I really wanted to point out to everyone is what happens if you are lucky enough to win one of those HGTV Dream Homes.  I want to let everyone know that I have not read anywhere what I am about to tell you, nor have I heard it before.  This is just my opinion from what I know of Home Owner's Association's, tax laws, and the politics of the wealthy.  Again, just my opinion…..  Although every winner's experience will not be the same.

—————————————
First of all, they are a gimmick designed to bring in more viewership for HGTV, and therefore more money from the advertisers that sponsor them.  Not only for their HGTV Channel, but also the HGTV website where readers can sign up to try and win the home of their dreams. '
The 'Dream Home' is usually designed and built by regular HGTV hosts that have their own diy shows on the network.  They are very skilled and talented and the homes always turn out to be very magnificent.
———————————–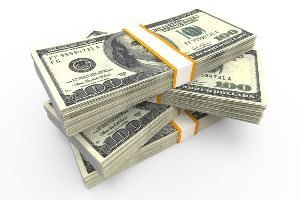 So in addition to this "Dream Home" you also win a new car, and a large sum of money, in this case, $100.000.00.   Don't expect to see one penny of that $100,000.00!  All that is going somewhere, meaning, to pay the taxes on the 'Dream Home' you just won, and depending on which state you may reside, the tax money does fluctuate.  There will also be fee's that you have not anticipated.  For example, the dreaded Home Owner's Associations.  In the nicer more upscale neighborhood's you will always find your HOA's.  They are the dictator's that let you know if your property or home isn't up to their standards of beauty.  I know that Gordon and I have received our fair share of these letters in the mail telling us about our yard not being beautiful enough because we don't use the cancer causing chemicals that all our other neighbor's use to make their lawns gorgeous, or that our mailbox needs painting, or that our driveway needs to be pressure washed.  I know that years ago when Gordon was overseas and I was having to do these jobs on my own that I received one about our yard needing to be mowed more often. 
So I got out the lawn mower and mowed my initials in it. 
There!  Done!  🙂

O.k.  so now you know that you won't see a penny of that cash bonus that you "win".  Next you need to realize that you will never live in your new 'Dream Home' for very long.  Although the house may be paid for, you still have to pay the yearly taxes on it.  So do you have enough money to cover the taxes on a $1.2 million dollar home?  Not to mention the HOA fees, whether they be monthly or yearly, you gotta pay those.  So do you have a job where you can even afford to live in this grand Dream Home that you just won?  This particular 'Dream Home' is located in Raleigh, North Carolina.  Do you just happen to live in Raleigh?  Can you transfer with the job that you currently have in the state of, (fill in the blank),  to the Raleigh area? 
Oh, and don't forget all the people that you will need to employ to take care of the grounds so that you can live in this 'Dream Home'.  Who will be in charge of the upkeep of your property?  You?  Well, I've got news for you.  Just getting out there and mowing your initials in the huge lawn of your 'Dream Home' won't fly well in this neighborhood.  (Not that it was very popular in my own either.) 
Oh, no, no, no, you will be hiring 'gardeners' not mowers.  There is a difference.  You are now one of the beautiful people and your property is a reflection on the entire community and therefore must be adhered to.  So expect to pay a pretty penny.  And the water bill to water all this 'Dream Home' property is probably what some people make in a year's salary. 
Oh, and don't forget the insurance on your new 'Dream Home'.  What is the going rate for a $1.2 Million Dollar Home?  How many tens of thousands a year?
I guarantee that when you take ownership of your new 'Dream Home', and are given your home owner packet, that there will be many HOA approved realtor's business cards in there to help you quickly make that decision that it's time to sell the home you just won.
Personally, I think that is why the wealthy always agree to have these 'Dream Homes' built in their neighborhoods, because they know one of them will eventually end up with it. 
——————————————-
A NOTE About the So-Called Beautiful People
I've known my fair share of the so-called 'Beautiful People' in my life and allow me to enlighten you.  When you look at their beautiful homes sitting atop their beautiful properties, with their beautiful cars sitting in their beautiful driveways, behind their beautiful gated communities, while they themselves are wearing their most beautiful smiles, (thanks to the best dentist's money can buy), not to mention the most beautiful faces that money can buy, and wearing the most beautiful clothing and carrying their beautiful designer handbags, that on the inside, some of these people are the ugliest you will ever know in your life.  Don't be fooled by the window dressing, it's just that. 
Rich people are not nice people.  Now, I'm not talking about rich George Clooney, or rich Jennifer Anniston, I'm talking about all those rich people that you will never know their names, that hide their money in off shore accounts so they don't have to pay their fair share of taxes, but will use the American system to milk all that they can from real tax paying citizens, like me and you.  They will take what's known as Corporate Welfare, as in millions of our tax dollars for their (TAX FREE) businesses, but will scoff at a single mother of 3 children who gets $57.00 a month of Food Stamps so that her children can have juice every day. 
Why do you think that so many bankers commit suicide?  They deal all day long with the most horrid people you can even imagine and they become very depressed over it.  (Again, my opinion.)
———————————————
What you will get out of this is a new car and some money from the sale of your new 'Dream Home'. 
Oh, but even though the home is valued at $1.2 million, don't expect to get that.  The wealthy will have the system rigged so that there will be no buyer that is willing to pay all that money to you, but I'm sure that someone will cough up say…………. $900,000.00?  If your lucky?  Don't forget the realtor's fee, and there should be a few other fee's thrown in there as well.  So maybe you might get 'free and clear' a good $500,000 to $600,000 thousand out of your $1.2 million dollar 'Dream Home'? 
Which is good when you have nothing!  I'm not saying this is totally a bad deal, I'm simply pointing out that it's not going to be exactly what you think.  And you will NEVER get everything out of it that you deserve to. 
This is America, where deception is legal. 
Yeehaw!
Have a nice day!
Julie
————————————————-
May 21, 2016
Flashback Saturday??
Well, an oldie, but a goodie!
Gordon and Julie 1981???
Well, we were dating.  Gordon wearing his Greek sailor's hat.  We rode over to this island in one of Gordon's family's boats.  I do remember that we ate burned barbeque chicken on the grill.  It was charred!  His parents were in a Power Squadron at this time.  The place?  Charlotte, North Carolina.
I need to write all this stuff down for our kids.
Have a great weekend!
Julie
——————————————-
May 18, 2016
Sometimes Life Just Makes you Sick to your Stomach
Gun Used to Kill Trayvon Martin
SOLD
Why would anyone want it?
It's the equivalent of a scalp.
Julie
—————————————————-
May 16, 2016
Photos From the Weekend
Some Pretty Flowers and Plants
Can't wait to plant these in the backyard, and on our lanai.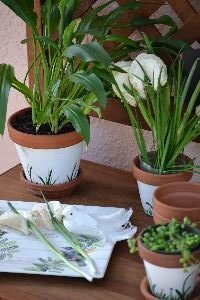 Also something that I created from an inspiration of my painted pots, (that I did many years ago from when we were living in Hawaii),  and my pretty white calla lily plant above.  I created a tea sandwich to try and mimic the calla lily.  I used some spring onions and some white/wheat bread with cream cheese and I also added some of our garlic chives to the pot that held my 'calla lily' sandwiches.
It was actually an experiment.  The idea was good but the execution was not so hot.  They worked better when I laid them down onto a plate.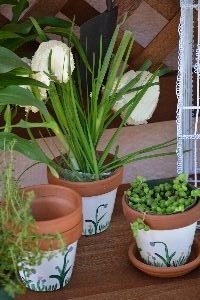 Calla Lily Tea Sandwich
Like my 'String of pearls plant'?  It looks more like peas to me.
My Gifts of Herbs and my Bug Cupcakes
Outside on the Potting Bench
I am definitely getting my money's worth out of this potting bench. 
——————————————-
But the highlight of my Friday and my Monday was seeing the Cirque du Soliel act in our backyard.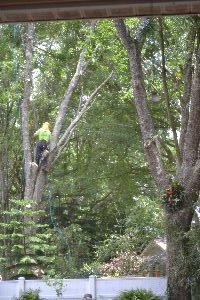 This Guy was Amazing!
What an Athlete!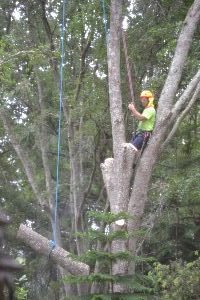 While tethered to the tree he would swing around the entire tree in the air, saw a branch off the tree and when it twisted and turned toward him he would swat it with an arm while catching it with his back foot to steady it, without ever even looking at it. 
Well, I thank Mary Pat so much for cutting down that tree because it was a dangerous one and 4 properties were in it's path if one of our strong Florida storms were to hit it. 
Hey, we do live in the 'Lightening Capital of America'.  Tampa does mean 'Sticks of Fire.'
Happy Monday!
Julie
———————————————————-
May 14, 2016
Beautiful Fun Saturday in Florida
Fulfilling my Condo Managerial Duties in Indian Shores
Said goodbye to one Ohio family, and hello to a California family.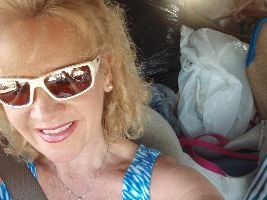 On The Way Home
The car is full!  Also did some shopping at Home Depot.  For some reason I just always have to fight the temptation to buy a tool belt.  Hmmm… 
We always seem to spend a fortune in there.   And for some reason we tend to turn into 7 year old's and race each other while pushing our carts.  There's just something about that place that makes me feel like a kid.  🙂
Traffic Stop Selfie
(The light was red, it's allowed.)
It's the little things in life that make me the happiest!
Julie
————————————————
Our Sugar
I just wanted to share.  She looked so regal relaxing on the couch.
—————————————————–
May 12, 2016
Old Bay on My Mind
Old Bay Seasoning Cheddar Biscuits
w/ Turkey Sausage
(Life just doesn't taste any better than this.)
——————————————————–
May 9 (11), 2016
Happy Monday, Uh, I mean Wednesday!

(I started this on Monday)
How was your weekend?  Did all of you have a nice Mother's Day?  You know, you don't have to give birth to be a mother. 
Well, look what I got for my Mother's Day gift from Gordon?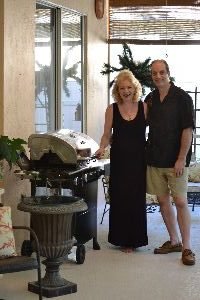 A GRILL!
WOW!  JUST FOR ME!
(Because I Grill so much.)
Yes, look at him pushing me aside so that he can admire MY Grill.
Well, I know exactly what I am getting him for Father's Day.
A pearl necklace!
I Had a Very Nice Mother's Day
Good food, good company, that's all that matters.
Argentinian Shrimp
Men in the Kitchen Cooking
While Veronica and I just stand around drinking wine.  ?
Brodie is a great apprentice, he loves cooking as much as Gordon does.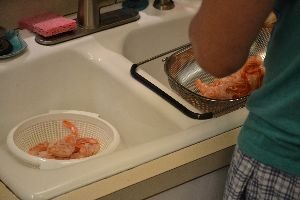 Brodie Prepping the Shrimp