How about some ice cream rolled in colored coconut topped with a bunny?
Happy Easter!
Welcome to Our Beachy Easter
—————————————————–
When you live near the ocean then you tend to spend a lot of time there.  Especially on the holidays.  We've spent many an Easter at the beach, I'm sure we will spend many more there as well. 
Here are a few Easters that were spent out at the beach condo where we were able to experience a very unique holiday that we wanted to share with you.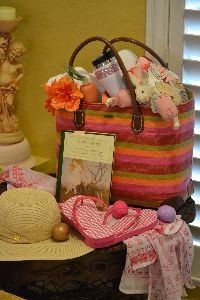 Headed To The Beach For Easter
——————————————————-
  It is becoming a tradition now for us to spend Easter at the beach.  Although we pride ourselves as being non-traditional.
In the photo above I filled some clear Easter eggs with sand and shells.  I also place two of our more decorative shells into a larger one with some sand.  The colorful shells almost look like Easter eggs themselves.
The kites that you see flying in the background on this page, we took the photos on Easter.  Pink and Blue.  Our colors this year.
Easter at the Beach
Ahh…..  Life just doesn't get any better than this, especially when springtime and Easter are in the sea air.
In the photos above, Gordon relaxing on the beach.  Looks like he found a sponge!   These sponges are quite expensive when you buy them in the stores, as in up to $100.00 for the size that we found.  But it will require some kind of treatment.  I'm researching what to do to preserve it.  Tarpon Springs is where they harvest the sponges.  It's a beautiful Greek fishing village.  We'll have to bring you that someday.  A wonderful place to visit.
Kites flying outside our balcony.  Always something going on at the beach to look at and admire.  Whether it be the many sea birds flying by in formation, airplanes pulling their banners, or just a pretty kite.  Beach life is very special and unique and we never tire of it.  🙂
Ready for Beach Pu-Pu's
What with a big Easter dinner coming later there is no reason to fill up at noon.  So these little treats were very satisfying to get us through till evening.
Cheese, crackers, turkey sausage with mustard, roasted red pepper dip, baked herbed goat cheese, delicious!!!
Gordon can always find sharks teeth.  Remember that the black ones are the oldest, as in millions of years old.  Try and spot the black triangles in the sand when you are strolling on the beach.  If you look hard enough then you can find them too.
My Canadian friend Sherry gave me the best little wine glass ever. 
I thought I would try it out.  Hey, this is a holiday after all.  No judging!!
——————————————————-
Easter Dinner
Gordon in the Condo Kitchen Cooking our Dinner
There is just something relaxed about celebrating a holiday at the beach.  All formalities are gone.  Flip flops, sandy toes, swimsuits, beach towels, coolers, foam noodles, beach bags, hats, sunglasses, fishing poles, tackle boxes, and lots of sand and seashells all around.
Casual, Relaxing, and Fun
We brought with us buckets of herbs from our garden at home to eat with our Easter dinner.  I even added some tulips and calla lilies to some beach buckets.  One of the pots had split so I had to put the tulips into another container so I improvised.
Delicious Cocktails with Strawberry and Mint
—————————————————
Pretty Place Setting
Most of the pretty tableware that I have here I picked up at thrift stores, antique malls, or I inherited from my grandmother.  The pretty tablecloth I bought at my most favorite thrift store for just $6.00.  It  would have gone for a lot more on Ebay or at an antique mall.
The vintage Florida dish, I have two of them, I bought at Goodwill last year for just a dollar each.  So petty!  It was probably sold at a gas station many, many years ago to tourists on their way down to Florida for their vacation.
Zucchini Fritters with Feta Cheese
Topped with citrus and mint
Gordon and I are incorporating more vegetables as a main course into our diet.  We always think of vegetables as a side dish but they can also make a great entrée. Here is an excellent zucchini fritter recipe to try.   They were also excellent as part of our Easter Dinner.
From the Forever Summer cookbook by Nigella Lawson.
4 Zucchini (about 1 ½ pounds)
5-6 scallions, finely chopped
9 ounces of feta cheese
Small bunch of fresh parsley, chopped
Small bunch of fresh mint, chopped, plus extra to sprinkle over the top at the end
1 Tablespoon dried mint (We left this part out and discovered it doesn't really make much of a difference)
1 teaspoon paprika
1 cup of all-purpose flour
Salt and pepper
 3 eggs, beaten
Olive oil for frying
3-4 limes (optional, to spritz over at the end) We used lemons.

Coarsely grate the zucchini with either the grating blade in the food processor or by hand.  Spread the little shards out on a tea towel and leave for about 20 minutes to get rid of any excess wetness.  Ours were still a bit too wet so we rung out the extra water by wrapping the towel tightly around the shredded zucchini and squeezing over the sink. 
Put the chopped scallions in a bowl and crumble in the feta.  Stir in the chopped parsley and mint, along with the dried mint and paprika.  Add the flour and season well with salt and pepper.  Gradually add the beaten egg and mix thoroughly before stirring in the drained, grated zucchini.  Don't be alarmed by the unflowing straggly lumpiness of this batter; It's meant to be this way. 
Heat a few tablespoons of oil in a large frying pan and drop heaped spoonfuls of the mixture in the hot oil, flattening the little cakes down with the back of the spoon as you go.  Cook these little patties for about 2 minutes each side until golden, and then transfer to a couple of waiting plates lined with paper towels.

Chop up the limes and tumble them about the edges of the plates.  Sprinkle over a little more chopped mint and eat them just as they are, spritzed with lime juice as you go.  Delicious!
                                                                                                                                                                                                                                                                                                                                                                                                                                                                                                                                                                                                                                                                                                                                                                                                                                                                                                                 You want to fry in a light olive oil and garnish with some citrus.
—————————————–
The Menu
Bed of Grilled Cabbage Wedges
Grilled Pork Chops
Zucchini Fritters with Feta Cheese (My favorite)
Glazed Carrots and Pearl Onions
 Red Potatoes with fresh Mint topped with fresh Thyme
Broccoli Slaw
Julie's Deviled Eggs
————————————–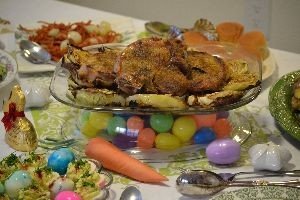 Grilled Cabbage Wedges
Ingredients:
1 Large Green Cabbage (Sliced into 1/2 inch wedges)
1/4 Cup Olive Oil
Salt and Pepper to taste
Take off the bad outer leaves of the cabbage and slice off the root end.  Cut your cabbage into 1/2 inch slices keeping them together and intact.  Brush olive oil on both sides of the cabbage slices and place them on a medium hot grill.
Grill the slices until slightly charred (about 8 min.) per side.  Once grilled, place on a large plate or platter and salt and pepper to taste.  The grilled cabbage slices make a wonderful bed for most any grilled meat… especially our next recipe.
———————————————–
Grilled Pork Chops
Ingredients:
Pork Chops (sliced into 1/2 in cuts)
4 Tbsp Olive Oil
1/2 Tbsp Onion Powder
1/2 Tbsp Garlic Powder
1/4 Tbsp Smoked Paprika Powder
In a small bowl combine the spices and olive oil.   Brush the seasonings onto the pork chops and place on a medium hot grill.  Grill the pork chops for about 7 min. per side being sure to not over cook them.  Flip the chops and brush again with the seasoned oil.  Salt and pepper to taste.
————————————
Glazed Carrots and Pearl Onions
Ingredients:
Two Cups thinly sliced Carrots
~20 White Pearl Onions
2 Tbsp Honey or 2 Tbsp Brown Sugar
4 Tbsp Butter
2 Tbsp Water
In a medium sized pot, boil enough water to cover the Pearl Onions.  Boil the onions for about 10 min. or until slightly tender.  Once done, pour the onions into a colander and drain well.  Slice off the root and stem ends of the onion and squeeze out the inner tender onion from the tough outer skins.  In the mean time also…
In another medium sized pot, boil enough water to cover the sliced carrots.  Boil the carrots for about 6 min. or until slightly tender.  Remove the carrots using the colander, draining well and place in a medium sized saute pan with all the other ingredients.  Saute the onion and carrot mixture over medium heat until the water has dissipated and the butter and honey are reduced to a nice glaze.
—————————————
Broccoli Slaw
Ingredients:
One Package Broccoli Slaw
1/4 Cup Cole Slaw Dressing
2 Tbsp Rice Wine
1/4 Cup Miracle Whip
1 Tbsp Sugar
Mix all ingredients together well and chill in the refrigerator for 1 hour.  This will ensure the vegetables are well seasoned and marinated.
———————————————
 Red Potatoes with fresh Mint topped with fresh Thyme
Ingredients:
2 Lbs Red Potatoes
2 Tbsp Butter
3 Garlic Cloves (Minced)
6 Mint Leaves (Chopped)
10 Sprigs Thyme (Left whole)
Salt and Pepper to Taste
In a large pot, boil the potatoes until tender (about 12 min.)  Drain the potatoes in a colander and slice into wedges.  In a medium saute pan over medium heat, place in the butter and minced garlic and saute for about 2 minutes. 
Now, add the potato wedges and toss within the garlic butter adding salt and pepper to taste. Saute the potatoes for about 8 min.  Place the garlic butter sauteed potatoes on a serving dish and top with the Mint and Thyme.
————————————————-
Julie's Deviled Eggs
(Topped with our fresh chives).
I adore Deviled Eggs and it's just not Easter without them. 
I cannot give exact measurements as I eyeball this every time I make them.  But first I start out by boiling about 10 – 12 eggs on the stove top on a high heat for about 15 minutes until they are hard boiled.  I then drain them out of the pot and set them in cool water to lower their temperature.  Sometimes I boil them the day before and leave them in the fridge overnight and make them the following day. 
I then remove the shells from the eggs, rinsing them in the sink to make sure all shell pieces are removed.  I like to use a serrated knife to slice the eggs lengthwise, then remove the yellow yolk and place into a bowl and set aside.  The serrated knife with give the egg whites a lovely design.  Do this to all the eggs, but wipe the knife off after each egg insuring they stay nice and white and clean.
Place your egg whites onto a plate and set aside.  In the meantime, use a fork to the egg yolks and mash them up.  Next add some mayonnaise, a squirt of yellow mustard, a few Tablespoons of pickle relish, a few dashes of Tabasco Sauce, some freshly ground pepper, and I like to add some sweet pickle juice just to make sure it is nice and sweet.  Then just mix all together in the bowl.
Now get a spoon and add some of the egg yolk mixture into each egg white half.  Some people may use a pastry bag to pipe the mixture into the eggs making them look lovely and pretty.  That's fine, but I just like doing it like my grandmother did.
    Now you can dress them up a bit by sprinkling some paprika over top, or some cut up chives, or even top with some cooked bacon for a bacon and egg deviled egg?  Whatever you like doing.
————————————
Fresh Marinated Mozzarella Balls
With our fresh green basil from our garden.
and
Hawaiian Honey Wheat Dinner Rolls
Our dinner was truly delicious!
( I wanted us sitting at opposite ends of the table like they do in the movies).

Now comes the best part, the leftovers!!
Hope everyone had a wonderful relaxed Easter holiday.  We had a great 6 days.  All holidays should be relaxed, that's why they are called "holidays".  🙂
——————————————————
Just a Few More Easter Touches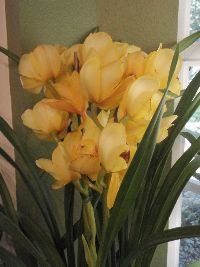 King Orchids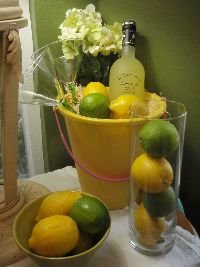 Lovely Easter Buckets Filled with Goodies for the Adults
These beach bucket gifts are specifically for adults.  Here I've added a Jose Cuervo Tequlla bottle with some limes, some martini glasses, some green napkins, a toothpick holder with cocktail picks, some silk flowers, an umbrella or two and an Aloha shirt greeting card, to a plain simple beach bucket.  Perfect!
Limoncello Gift
This is probably our most favorite liquor.
A wonderful lemony drink.
Two adult Eater buckets that anyone would enjoy.
Very Italian and Floridian!
—————————————-
Barefoot Wine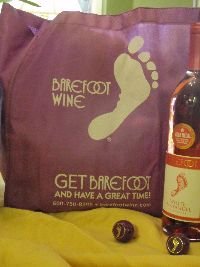 We Love All The Barefoot Wines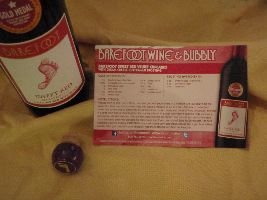 Barefoot Easter
We first discovered the Barefoot wines when we were living in Hawaii.  They are delicious and moderately priced.  They happen to be our favorite wine of choice.  Here are a variety that are sold.
Pinot Noir
Red Moscate
Reisling
Merlot
White Zinfandel
Chardonnay
Pinot Grigio
Sweet Red
Cabernet Savignon
Just to name a few……..
Variety of assortment.  We also cook with these wines.  See the cupcake recipe below for our Easter cupcake dessert.
Barefoot Sweet Red Velvet Cupcakes
These are honestly the best cupcakes that I have ever eaten in my life!  Who would have thought that beets could be so delicious in cupcakes!? This year I've made them as our Easter dessert.
Cake Ingredients:
2 Cups of Barefoot Sweet Red Wine
2 T. unsweetened cocoa powder
¾ granulated sugar (we use the Splenda sugar)
2 large eggs
1 t. baking powder
1 t. baking soda
1 ½ cups grated beets
1 ¼ cup flour
¼ t. salt
¾ cup canola oil
2 t. vanilla extract
Instructions:
Preheat oven to 350*.   Line a 12- cup cupcake pan with paper liners.  In a medium-size saucepan heat the Sweet Red Wine over medium high heat until liquid is reduced to 2/3 of a cup.  Add beets, cover, turn down the heat to low and let simmer for 15 minutes. Cool cooked beets and puree in food processor/blender.  In a large mixing bowl whisk together the dry ingredients.  In a small mixing bowl beat the eggs, canola oil, and vanilla until well blended.  Add the egg mixture to the dry mixture and stir until completely blended.  Stir in the beets until well blended.  Fill each paper liner three quarters full.  Bake for 20 minutes.  Let cool completely before frosting.

Cupcake cups, cupcake decorations, and sugar free cupcake icing.  This is the icing that I used for my cupcakes.  I am a borderline diabetic so I try to cut back on sugar as much as possible.
Frosting Ingredients:
8 oz. cream cheese (room temp)
8 oz. powdered sugar
4 T. buttermilk
In a small mixing bowl add cream cheese and sugar.  Beat with an electric mixer just until mix comes together.  Add the buttermilk and beat until smooth.
I've added the beets to the Sweet Red Wine left, then covered them and simmered for 15 minutes until it looks like so.  See the right photo.
Cupcakes before frosting.  Let them cool completely.  The cupcakes are so delicious that I think they would make an excellent loaf bread.
Viola!!  The finished results!  Don't they look wonderful?  Our Easter table is now complete.
                                                                                                                                                                                                                                                                                                                                                                                                                                                                                                                                                                                                                                                                                                                                                                                                                                                                                                                                                                                                                                                                      ————————————-
Beautiful Hydrangeas for Easter
 ——————————————————-
Reading Alice's Adventures in Wonderland and
Through the Looking Glass
by Lewis Carroll
You know I've never read it before.  I've probably seen every version of Alice in Wonderland on television throughout my life.   I'm sure that it has been on some "required reading list" program when I was growing up but I never actually read it.  So I decided that this book is going to be my Easter reading.  As I see it I am over 50 I had better get to those things that I want to do before my time is up.
Fact:  Lewis Carroll is the pseudonym of Charles Lutwidge Dodgson.  He was born January 27, 1832 and died January 14, 1898 of pneumonia.  His family was predominantly northern English, with Irish connections.
Lewis Carroll
It is said that Queen Victoria loved the book so much that she asked that his next one be dedicated to her.  According to Lewis Carroll that never happened.  It's amazing how gossip ends up in history notations as "facts".  Similarly to Marie Antoinette's famous quote where she says to the starving peasants (Why do we have to call them peasants anyway?)  of France when there was no more bread, 'Let them eat cake'.  There has never been any evidence that she said such a thing.  That quote was alleged by the wife of her husband's rival.  History is filled with so many unsubstantiated quotes by rivals.  Remember that.
—————————————————
Pretty Easter Baskets
Pretty Bunnies all in a Row
———————————————————-
Getting Started
How To Make Your own Mozzarella
This was featured in our Easter Dinner above.
This was actually pretty easy and exciting to make.  It was a lot of fun on a very rainy day to spend it in the kitchen.
The Ingredients
1 Gallon Milk
1/2 Rennet Tablet
2 Tbsp Citric Acid
1 tsp salt
1/2 cup water
———————————————————
Marinade
Fresh Basil and Garlic to taste
3 cups Olive Oil
1 Tbsp Red Peppercorns
Fresh Basil
Heating water on the stove to dip the cheese into or you can use the microwave. Be sure to use raw unpasteurized milk if you can get it, otherwise use whole milk.
Pour milk into large pot.  Place cooking thermometer into pot.
Using two containers dissolve the rennet in ~1/4 cup water in one container and in a different container dissolve the citric acid in the same amount of water.
Add the dissolved citric acid into the milk and stir well.
Heat the milk to 88'F and the milk will start to look chunky. Now, add the dissolved rennet into the milk mixture and stir well.  Heat the mixture to 105'F, turn off the heat, cover, and let the mixture sit for 20 min.
Pour the cheese into a colander with a larger bowl underneath to catch the whey.
Viola!  Your mozzarella cheese is almost done!
Here you have two options… you can place the cheese in the microwave for 1 min., add your salt to taste and then start to kneed it like you would dough.  As you kneed the cheese you will see it combine and look more like Mozzarella cheese.
You can also place the cheese into the hot water and it will heat the cheese like the microwave does and then kneed the cheese as before.
You can also pull it long forcing it through your hand into a ball.  You may need to place the cheese back into the microwave or hot water to make the cheese more pliable while handling it.
Form Into Balls
Chopped basil, garlic and red peppercorns.
Heating olive oil on the stove and sauteing the garlic. 
  Crushing Whole Peppercorns
Just place the peppercorns on a cutting board and use the bottom of a small bowl or jar to crush them.  Or any surface that you prefer.
The Base of the Mozzarella Marinade
Adding Your Cheese Balls
Now pour over the mozzarella balls and marinade ingredients, the olive oil.
Himalayan Crystal Salt
You can use any salt you like.  We like using exotic salts, because they add a different flavor to our dishes.  This particular salt has a very light flavor.  Not to mention quite pretty to look at.
———————————————————
Happy Easter